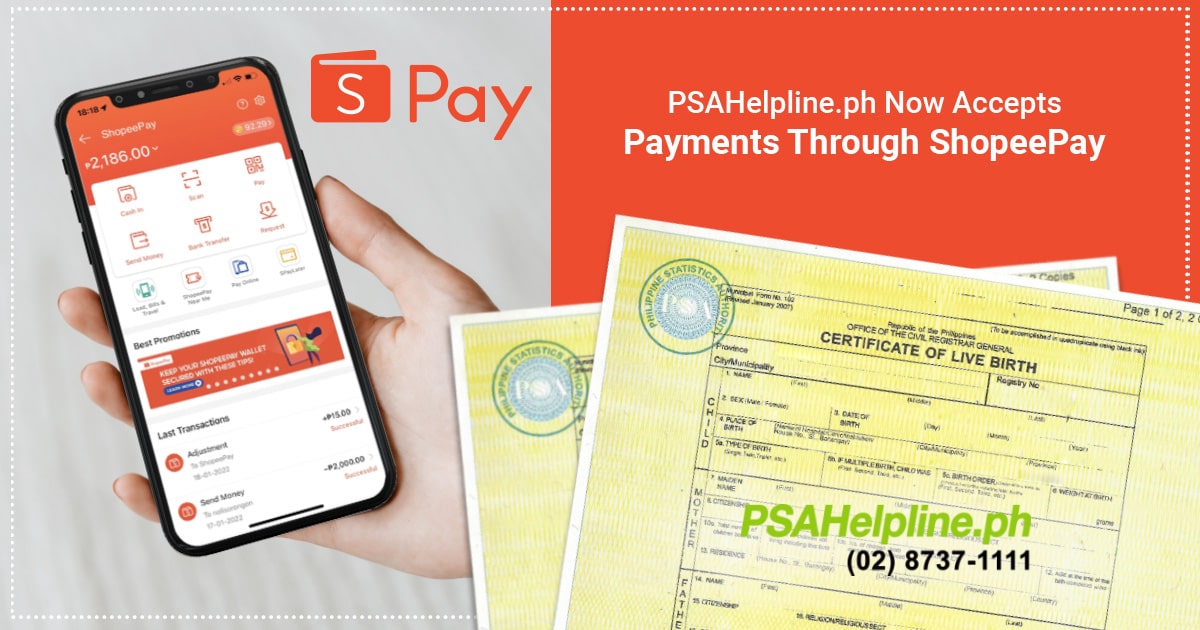 Good news! You can now pay your PSA birth, marriage, death certificates, and CENOMAR requests at PSAHelpline.ph using ShopeePay.
Paying through ShopeePay is an easy, safe, and convenient way of securing your ordered PSA certificates at PSAHelpline.ph. Here's how:
When you choose ShopeePay as your payment option, the system will generate a QR code that is unique to your order. The QR code will show on your screen.
Using your phone, launch your Shopee app and tap on the scan icon found on the left side of your screen. It is usually beside the Shopee Wallet icon.
The scan icon will launch your phone's camera. Aim your camera on the QR code to be taken to the payment page.
Click the Pay Now button at the bottom of the screen.
You will be asked to provide your ShopeePay PIN to authorize the payment.
You should receive a payment confirmation as soon as your payment goes through.
Reminders when ordering your PSA certificates at PSAHelpline.ph:
You can order your own PSA certificate, your children's, and your parents'.
You can order multiple copies of the same PSA certificate in one order. This helps you save on shipping fees.
If you need different PSA certificates (one birth certificate, one marriage certificate, etc.), you need to make one order for each type of certificate.
If you are ordering the PSA certificate of your children or your parents, you should be able to provide their personal details such as their complete name, birthdate, date of marriage (if ordering marriage certificate), date of death (if ordering death certificate).
Also, you should be able to determine if the certificate underwent a legal proceeding for corrections, changes, and amendments, or if the certificate was registered late.
Only persons of legal age can order PSA certificates online.
You will be asked to provide your information as the requesting party. You will also be asked to determine the type of ID you will be presenting to the courier when your orders are delivered to you. PSAHelpline does not allow representatives (even with authorization letters, etc.) to receive ordered PSA documents on behalf of the owner or the authorized requester. You must be physically present at the address you indicated in your order, to receive the documents.
How soon will the PSA certificates arrive?
As soon as your payment is confirmed, the processing of your order will begin. If your delivery address is in Metro Manila, you will receive your order/s in 3 to 4 working days; if you have a provincial delivery address, expect to receive your orders in 3 to 8 working days.
Can I track my order's status?
Yes. PSAHelpline.ph provides an online order status tracking feature on its website. Just logon to PSAHelpline.ph and click on the Check Status link on the topmost part of the homepage. Type your order's reference number on the field and click the Check Status button.
For more information, visit the PSAHelpline website at www.psahelpline.ph. You may also call the Customer Care hotline of PSAHelpline.ph at 02-7-8737-1111. They are available to receive your calls from 8am to 5pm, Mondays to Saturdays, except holidays. You can also send an email to help@psahelpline.ph.