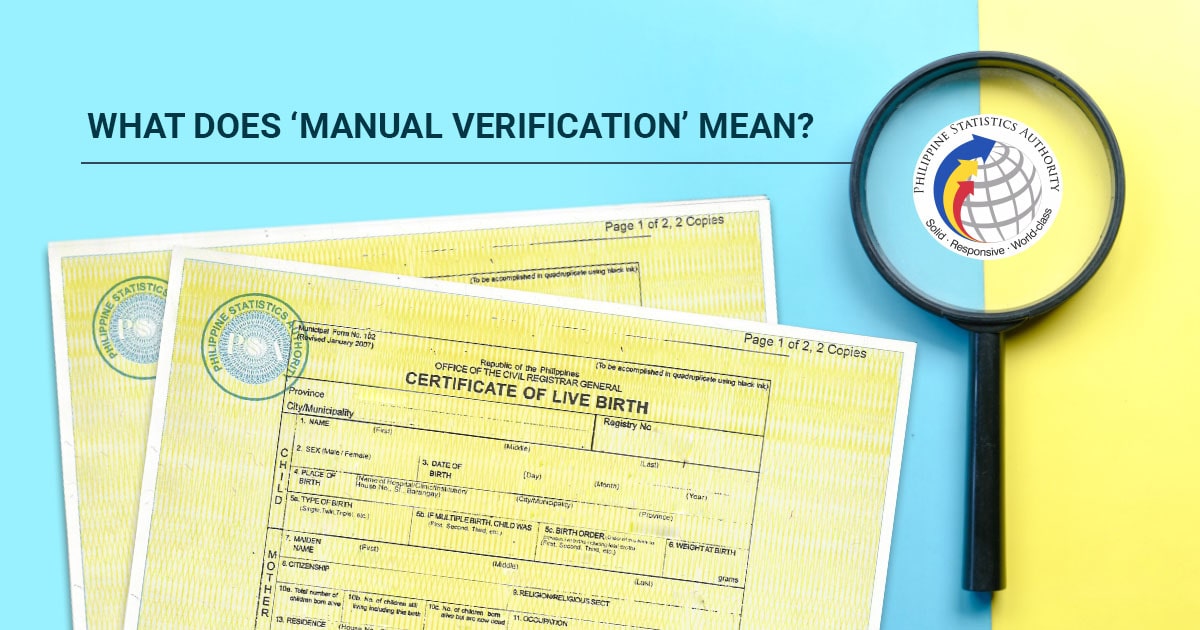 What is Manual Verification and what does it mean when your PSA birth certificate order is tagged as such?
When you order a PSA certificate online at PSAHelpline.ph, the document will be delivered in three to four working days for Metro Manila addresses, and up to eight working days for provincial addresses. If the requested document does not have a record at PSA, a negative certificate will be issued in its place. The owner of the document or authorized requester may check with the Local Civil Registrar's office (LCR) for a copy of the certificate and have it endorsed to the PSA.
However, there are also instances when a certificate may take longer than four or eight working days to be delivered because the document needs to undergo manual verification.
What is Manual Verification and why does it take longer to deliver a PSA certificate that needs to undergo manual verification?

Manual verification means that the certificate being requested does not have a digitized copy yet. Without a digital copy, PSA must manually search for the actual document in its archives and reproduce a copy to be sent to the requesting party. This process takes longer than simply retrieving the digital copy from their database and printing it on a PSA Security Paper.
How will I know if my order needs to undergo Manual Verification?
PSAHelpline provides updates for paid orders through SMS and email notifications. An applicant will receive regular updates to inform him when his order is already on process at PSA, released by PSA, dispatched to the designated courier, and when out for delivery. The applicant also has the option to check the status of his order on the PSAHelpline website using the order's reference number.
If the order status returns as Manual Verification, this means that the document does not have a digital copy yet and PSA is manually searching for it in its archives. This also means that there is a huge possibility that the order will take more than four or eight working days to be delivered.
Can I ask for a refund if my order gets delayed due to Manual Verification?
PSA only retrieves a certificate from its digital and physical archives when it is applied for by its owner or an authorized requester. Without a paid order or request, retrieval for the certificate will not be triggered. This is true even when the applicant submits his request over the counter at a PSA office; the application or order must be paid for retrieval to begin.
For this reason, a refund may not be possible. Remember, too, that a requested PSA certificate that undergoes manual verification does not mean that the certificate is not available or does not exist. It simply means that the PSA needs more time to produce a hard copy since it still does not have a digital format that can be easily retrieved and printed out.
Is there a definite timeline for manual verification to be completed?
The quickest answer to this question is: no, there is not.
The applicant will receive an SMS and email notification as soon as the requested PSA certificate is released by PSA and endorsed to the courier for delivery.
If I go to a PSA office and request for my document over the counter, will they be able to retrieve it faster?
The PSA certificate will be retrieved from the same digital or physical archives, whether the application was made online or over the counter at a PSA office. If the document being requested does not have a digital copy, the applicant will still be asked to wait until PSA is able to locate the document in its archives.
Summary
PSAHelpline.ph is an online channel where Filipinos may conveniently request for copies of birth certificates, marriage certificates, death certificates, and Certificate of No Marriage or CENOMAR. Barring natural and man-made disturbances that may hamper delivery, the ordered document shall be received by the authorized requester in three to four working days in Metro Manila and up to eight working days for provincial areas. However, should PSA require more time to retrieve the needed document, as in the case of manual verification, delivery will take longer than usual.