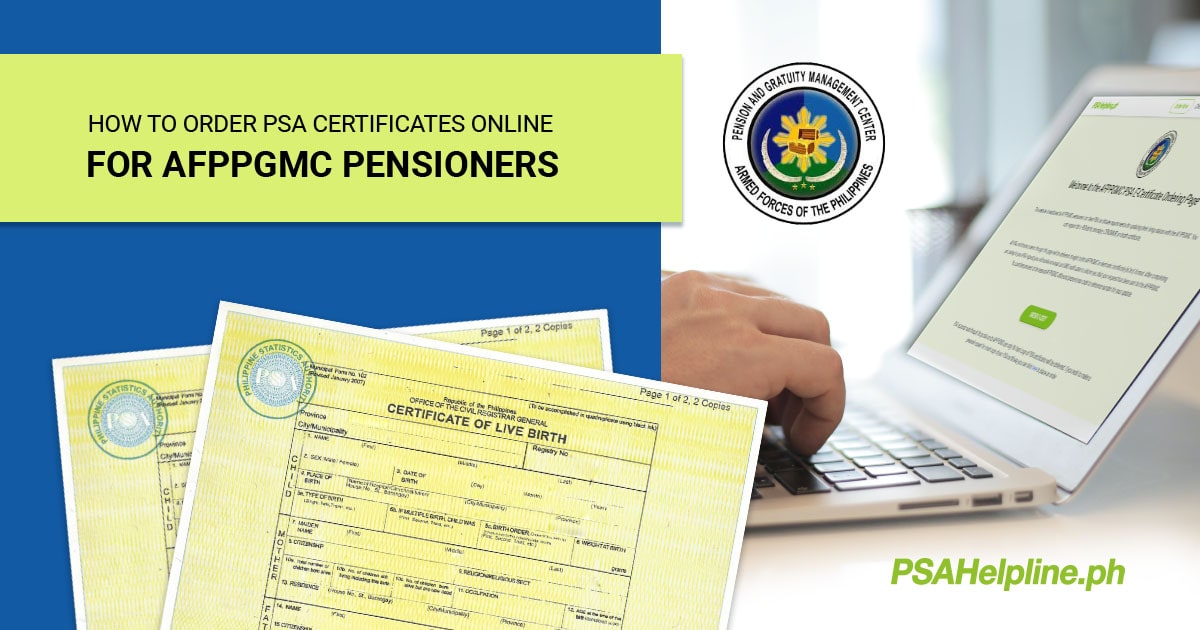 The Armed Forces of the Philippines Pension and Gratuity Management Center (AFPPGMC) is the government agency that manages the pension funds of retired AFP personnel, civilian employees of the AFP, their beneficiaries, and dependents. This agency is responsible for the proper computation, processing, and release of pension benefits, as well as aid in the processing of claims for retired personnel who have passed away.
Retired members of the Armed Forces of the Philippines (AFP) need to keep their records updated to avoid disruptions in the timely release of their pension funds and other benefits. By providing the AFPPGMC the required forms and documents to update their living status, they are assured that their records are current and that they continue to receive pension benefits on time.
One of the requirements when renewing the living status of a pensioner is a valid birth certificate. This birth certificate should be issued by the Philippine Statistics Authority (PSA) and printed on the PSA's security paper (SECPA) to ensure its authenticity.
Why is a PSA birth certificate necessary for updating the records of an AFP pensioner?
A PSA birth certificate is necessary for updating the records of an AFP pensioner because it serves as a primary document for establishing the pensioner's identity and date of birth. It is also used to verify the pensioner's citizenship and to determine their eligibility for certain benefits.
What other PSA documents are required when updating a pensioner's living status?
Pensioners may also be required to present a valid PSA Certificate of No Marriage (CENOMAR), or a PSA marriage certificate, when applicable.
The CENOMAR is required for verification purposes. This is to ensure that the pensioner has not contracted any marriage after retirement, which may affect their eligibility for certain benefits. This is needed to avoid any potential issues related to the distribution of pension funds.
On the other hand, a PSA marriage certificate may be required when a pensioner updates his living status to prove the validity of his or her marriage and to verify the eligibility of their spouse for survivorship pension benefits. In addition, if the pensioner has dependent children, the marriage certificate may also be used to verify the legitimacy of their children and their eligibility for certain benefits such as dependent pension.
How can an AFP pensioner obtain a copy of a PSA birth certificate, PSA marriage certificate, and PSA CENOMAR?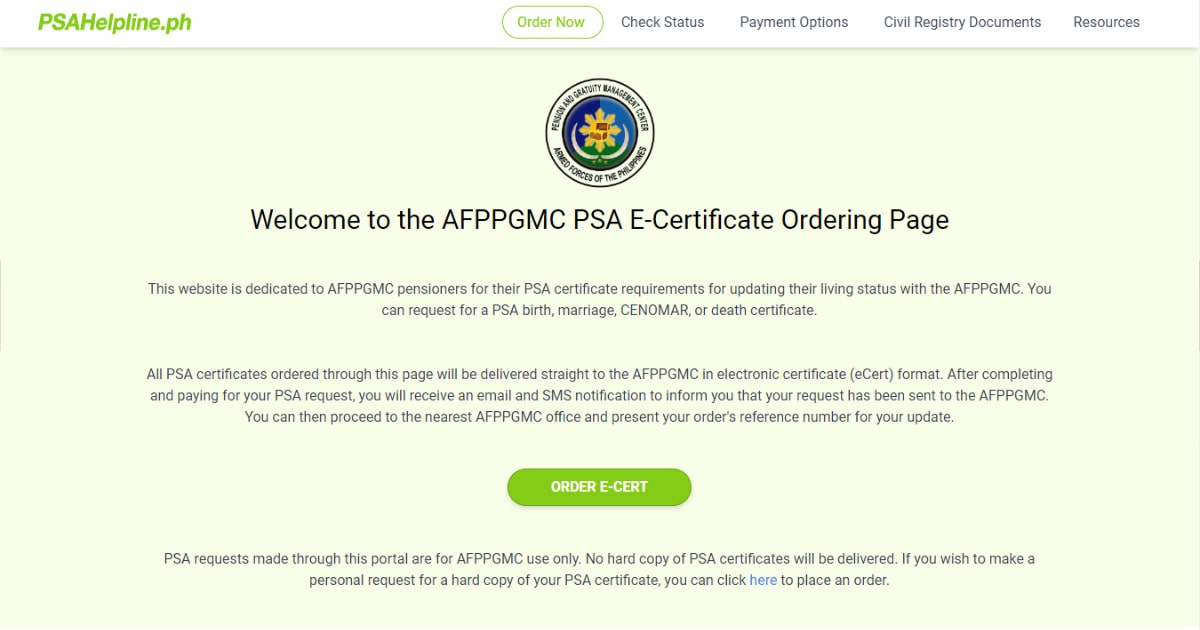 A pensioner may request for a copy of the above PSA certificates at any PSA CRS outlet nearest his location. There is also an option to order the PSA certificate online and have it delivered in digital format straight to the AFPPGMC through the AFPPGMC PSA E-Certificate Ordering Page. This is a website that caters specifically to AFP pensioners, their surviving dependents, and beneficiaries who need to submit PSA certificates to the AFPPGMC.
By ordering through this website, the pensioner no longer needs to travel and apply for the documents in person. This saves him time and travel expenses as the e-certificate is sent directly to the AFPPGMC. This is truly meaningful for pensioners who reside in areas that may be too far from the AFPPGMC office, or may already have difficulty moving around due to health concerns.
How to apply for a PSA certificate online:
Log on to https://psahelpline.ph/afp and click the Order E-cert button to be taken to the ordering page.
Choose the type of PSA certificate you wish to order and determine for whom you are ordering.
Provide your information as the requesting party as well as the details of the owner of the PSA certificate you are applying for.
Provide a working mobile number and email address where PSAHelpline may send information and updates about your order.
A summary of your order and its details will be displayed towards the end of the ordering process. Check that all information are accurate to avoid delays in your order. When done, make a payment through any of the payment channels available on the page.
The PSA certificate you ordered will be sent to the AFPPGMC in digital format. If you wish to receive a hard copy of the certificate, you may create a new order at www.psahelpline.ph.
How much will it cost to order the PSA certificate online?
Birth, marriage, and death e-certificates cost Php 315 while a CENOMAR e-certificate costs Php 370. The rates are inclusive of service fee for the delivery of the e-certificate to the AFPPGMC.
Where can I pay for my order?
You may pay through any of PSAHelpline's payment channels such as Visa or Mastercard credit card, GCash, Maya, ShopeePay, or Bayad Online.
Over-the-counter payments are likewise accepted at 7-Eleven branches, Bayad outlets, and at Palawan Pawnshops. Other payment channels available are BancNet ATMs and Dragonpay.
Conclusion
Obtaining the necessary PSA certificates is a requirement when updating the living status of an AFP pensioner. These serve as primary documents for establishing the pensioner's identity, and are used to verify their eligibility for certain benefits. By following the steps outlined above, AFP pensioners can easily get copies of their PSA certificates and complete the requirements for updating their living status.