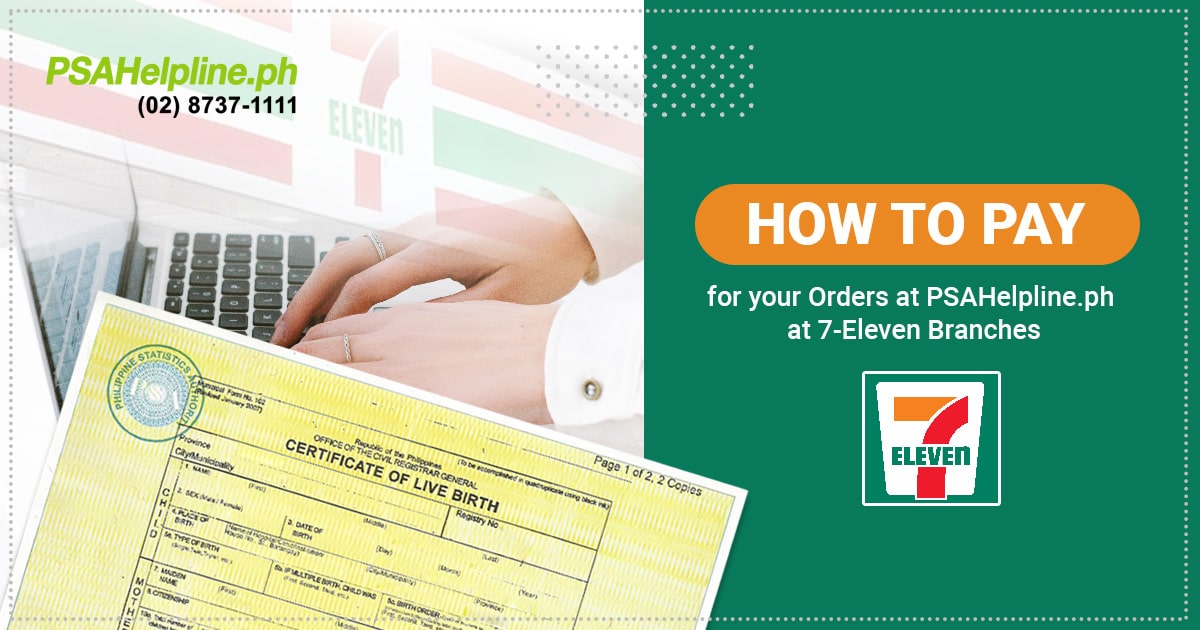 Did you know that the very first 7-Eleven store in the Philippines was the one located at the corner of EDSA and Kamias Road in Quezon City? It opened in February 1984 and remained in operation for more than three decades. As of April 2021, there are 2,978 7-Eleven stores in the country; each strategically located to quickly meet the essential needs of Filipinos, 24 hours a day, 7 days a week.
Apart from being a neighborhood 24/7 grocery store, 7-Eleven now also serves as a payment hub through their multi-payment platform. You can pay for your utility bills, buy load for your prepaid SIM, and send money through the Cliqq machine at 7-Eleven stores. Easy and convenient, right?
7-Eleven is one of PSAHelpline's accredited payment centers. This means that if you order a PSA birth certificate, PSA marriage certificate, PSA death certificate, or PSA CENOMAR through the PSAHelpline website, you can easily and conveniently pay for it at any 7-Eleven store through their Cliqq machine.
To pay for your PSA certificate online orders from PSAHelpline.ph at 7-Eleven stores, follow these steps:
On the Payment Options, choose 7-Eleven

The page will show you the instructions on how to pay for your orders using the Cliqq machine at a 7-Eleven store. Click on Pay Using 7-Eleven and you will be taken to the screen below:

Proceed to the nearest 7-Eleven store in your area to pay for your order/s. Below are a few reminders when paying at 7-Eleven:

✔ Always ask the 7-Eleven cashier if their payment portals are online.

✔ If you have more than one PSA certificate order (multiple reference numbers), you will have to pay for each order individually. You may combine the total amount in one payment.

✔ Payments made through ECPay at 7-Eleven stores will be credited real-time.

✔ Offline stores will have delayed posting of payment.

On the Cliqq kiosk, tap on Bills Payment.
In the Bills Payment menu, choose PSAHelpline.

Key-in the order reference number of the PSA certificate you are paying for. If you have more than one order, you will do this for each order (reference number) you have. Use your mobile phone number as the Contact Number. There is no additional convenience fee.

The rates for the different PSA certificates are:

PSA Birth Certificate
P365.00
PSA Marriage Certificate
PSA Death Certificate
PSA Certificate of No Marriage (CENOMAR)
P420.00

Bring the printed payment receipt to the cashier and pay for your order. If you have three separate order reference numbers, you must have three receipts. You may simply pay the total amount of all your orders at the cashier.

Once your payment is posted, you will receive an email and SMS notification advising you that your payment is successful. You now must wait for the delivery of your orders.

Metro Manila orders are delivered in 3 to 4 working days while provincial orders take 3 to 8 working days to be delivered.

You may also track the status of your paid orders on the PSAHelpline.ph website. Simply click on the Check Status link on the homepage and then key-in your order reference number on the space at the bottom of the page:

On the day of delivery, prepare the valid ID you chose to present when you placed your order on the website. Only the owner of the document or the authorized requester may receive the document/s. The courier will check and validate the ID and will only release the orders to the rightful recipient. In some instances, the courier may call for directions to your area. Please keep your phone accessible so you can quickly communicate your location to the courier.
Below is a comprehensive guide on who may order PSA certificates online:
PSA Certificate
Who May Order and Receive
PSA Birth Certificate
Owner of the certificate
Owner's parents
Owner's children who are of legal age
PSA Marriage Certificate
Owner of the certificate
Owner's parents
Owner's children who are of legal age
PSA Death Certificate
Children of the deceased
Spouse of the deceased
PSA CENOMAR
Owner of the certificate
Owner's children who are of legal age
Owner's parents
As always, when paying for your purchases over the counter, make sure you are issued the proper receipts. Keep your receipt until the PSA certificates are successfully delivered to you.
Benefits of Paying at 7-Eleven Stores
✔ 7-Eleven stores are open 24 hours a day, 7 days a week. This gives you ample time to visit any of their shops to pay for your orders at PSAHelpline.ph.
✔ Payments made at 7-Eleven post real-time on the system.
✔ No convenience fees.
✔ The Cliqq kiosk is easy to use.
Conclusion
Having your essentials delivered to your home is still the safest way to get the things you need during this season. The more you limit your trips outside your home, the less likely you and your family are exposed to the virus – and that is what is most important. If you can order your food, medicines, groceries, and other supplies online, why not your civil registry documents? These are essentials too, right?
Keep a file of your family's birth certificates and make sure these are stored securely in your home. Choose to order your PSA birth certificates online (as well as marriage certificates, death certificates, and CENOMAR) and have these delivered to you.