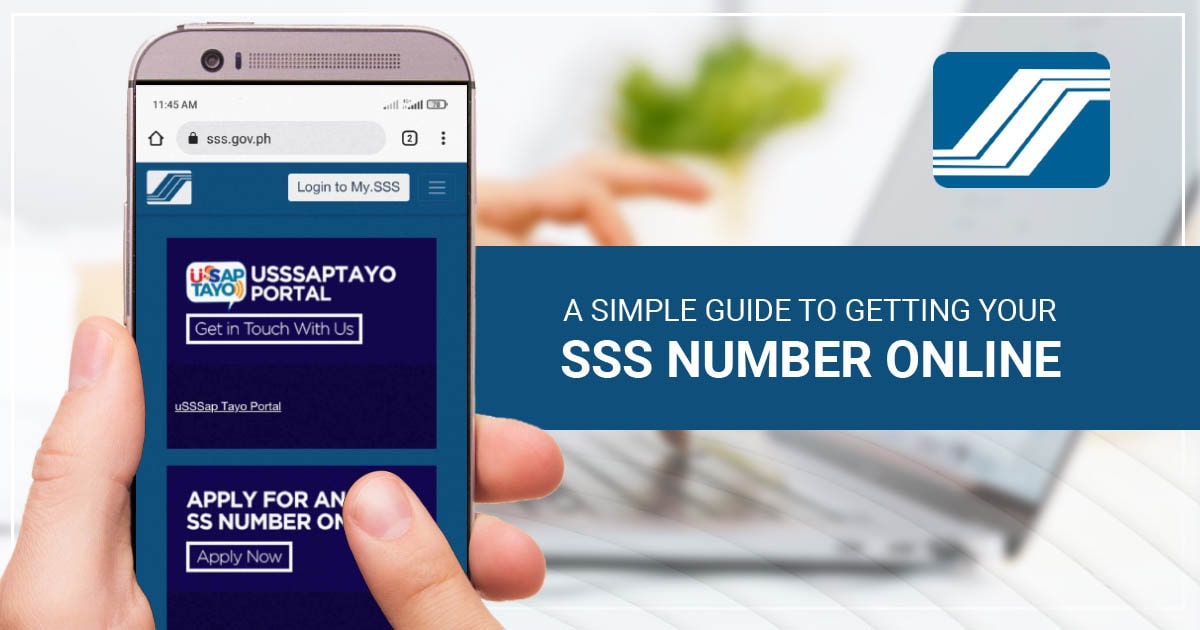 Planning for the future should be a priority for every Filipino; whether you're just starting your career journey, switching jobs, or simply looking to safeguard your retirement years, having a Social Security System number is a fundamental step. Thanks to the power of online services, obtaining your SSS number has become simpler and more accessible than ever. In this guide, we will walk you through the hassle-free process of applying for an SS number online, complete with the essential documents you need to have on hand.
What you'll need:
How to get an SSS number online:
Log on to the SSS website and click on the Apply for an SS Number Online box found at the middle portion of the homepage.

Fill out the online form with correct information (personal details) and click the Submit button.

You will receive a link in the email address you provided in the application form. Click the link to continue with your application. The link is only good for five working days, after which, you will need to repeat the registration process to generate a new link.

Once you click the link sent to your email address, you will be required to key in your basic information as well as your beneficiaries' information. Make sure all names are spelled out correctly and dates are accurate.

Review all the information you provided in the registration form before clicking on the "Generate SS Number" button. You will then be shown your generated SS number and an option to print the ePersonal Record Form and SS Number Slip. All these details will also be emailed to you.

At this point, you already have an SS number but your membership status is tagged as Temporary. To fully enjoy the benefits of an SS member, you need to visit an SSS branch and complete your registration by submitting the required documents.

Print the ePersonal Record Form, SS Number Slip, and the SS Number Application Confirmation email body that was sent to you after your online registration.

Prepare copies of your PSA birth certificate.

If you have children, prepare copies of their PSA birth certificates.
If you are married, also prepare a copy of your PSA marriage certificate. You can order all these in one go at PSAHelpline.ph and just have these delivered to you.
If you are a non-working spouse, your spouse who is working must sign his or her name on the printed ePersonal Record Form. This means that your spouse is knowledgeable of your SSS membership.

Bring all the items in numbers 6 and 7 to the nearest SSS office. Please remember though that not all SSS branches accept walk-in transactions for certain services; you may need to set an appointment online. To be sure, call the SSS hotline at 02-89206446 to 55 (Metro Manila) and 1-800-102255777 (provincial).

Upon submission of the supporting documents, the member's Temporary status shall be updated to Permanent.

It may also be good to set up a MySSS account for easier online access to your SSS records, benefits, and privileges.
List of Benefits for Permanent SSS members:
Sickness Benefit – This is given to members who were unable to work because of sickness, surgery, or injuries.

Maternity Benefit – Daily cash allowance given to female SSS members who are unable to work after childbirth or miscarriage.

Retirement Benefit – Monthly pension or lump sum amount given to SSS members who retired from work due to old age.

Disability Benefit – Monthly pension or lump sum amount given to members who suffered physical injuries or mental problems, whether temporary or permanent.

Death Benefit – Monthly or lump sum amount given to SSS member beneficiaries after an SSS member passes away.

Funeral Benefit – Amount paid to anyone who shouldered the expenses for the funeral and burial of an SSS member or pensioner.

Unemployment Benefit – The newest benefit launched by the SSS. This is a cash allowance given to members who lost their jobs or were unemployed due to retrenchment or downsizing, bankruptcy of their employer, and other similar reasons.