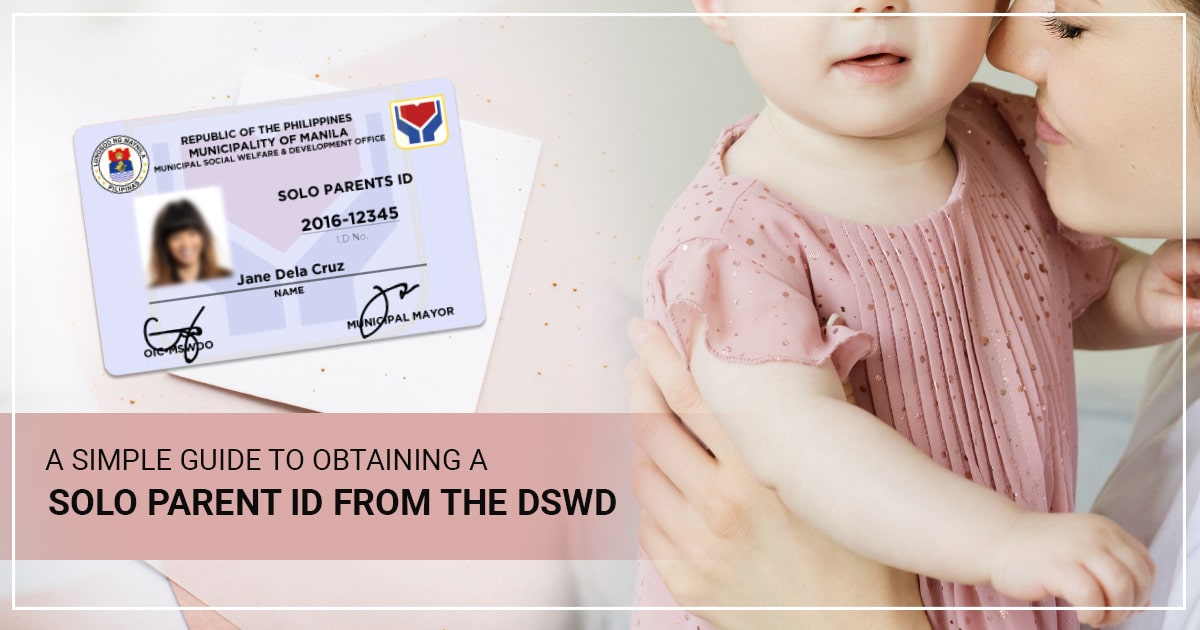 Being a solo parent comes with its own set of challenges and responsibilities. To assist solo parents in accessing necessary benefits and support, the Department of Social Welfare and Development (DSWD) offers a Solo Parent ID. This identification card is a valuable resource that grants access to various government programs and services tailored to aid solo parents and their children. As outlined in the Solo Parents Welfare Act RA 8972, having a Solo Parent ID brings a range of advantages. These include help from the government and entitled leave benefits. These leaves can be utilized when tending to their child's necessities or for personal care during periods of illness.
In this article, we will outline the steps to obtain a Solo Parent ID, including the required documents and important information.
Step 1: Confirm Eligibility
Before applying for a Solo Parent ID, ensure you meet the eligibility criteria set by the DSWD. Section 3 of RA 8972 classifies solo parents as:
A woman who gives birth as a result of rape and other crimes against chastity even without a final conviction of the offender, provided that the mother keeps and raises the child;

Parent left solo or alone with the responsibility of parenthood due to the following circumstances:

Death of spouse;
Detention or imprisonment of the spouse for more than one year;
Physical and/or mental incapacity of spouse as certified by a public medical practitioner;
Legal separation or de facto separation from spouse for at least one year, as long as the solo parent is entrusted with the custody of the child/children;
Declaration of nullity or annulment of marriage as decreed by a court or by a church as long as the solo parent is entrusted with the custody of the child/children;
Unmarried mother/father who has preferred to keep and rear her/his child/children instead of having others care for them or give them up to a welfare institution;
Any other person who solely provides parental care and support to a child or children.
Step 2: Prepare All Required Documents
To apply for a Solo Parent ID, you'll need to prepare the following documents:
Proof of Status as Solo Parent:

For those with deceased spouse: PSA Death Certificate of spouse
For those with detained/imprisoned spouse: Jail Records or Certificate of Detention
For those with incapacitated spouse: Medical certificate from a public medical practitioner
For those with separated spouse: Legal declaration of separation, annulment, or nullity

Proof of Income:

Income Tax Return (ITR) or any document proving income
Certificate of Indigency (if applicable)

Proof of Residency:

Barangay Certificate or any government-issued ID indicating residence within the locality

Proof of Custody:

Other supporting documentation (this may vary as may be required by DSWD):

Medical certificate of solo parent and/or child with special needs
Certificate of employment, if applicable
Step 3: Application Process
Once you have gathered all the necessary documents, follow these steps:
Visit the nearest DSWD office or check their official website for the application form. Some LGUs, like Quezon City, accept online applications for Solo Parent IDs, so make sure to check out your LGU's website for any opportunity to submit your application online as this is more convenient and economical.

Fill out the application form and attach all required documents. Make sure to bring the original copies and photocopies of the supporting documents.

Submit your application and inquire how long you need to wait to receive feedback.

Remember that your application is subject to approval. If approved, the DSWD will issue you your Solo Parent ID.
What are the benefits of having a Solo Parent ID?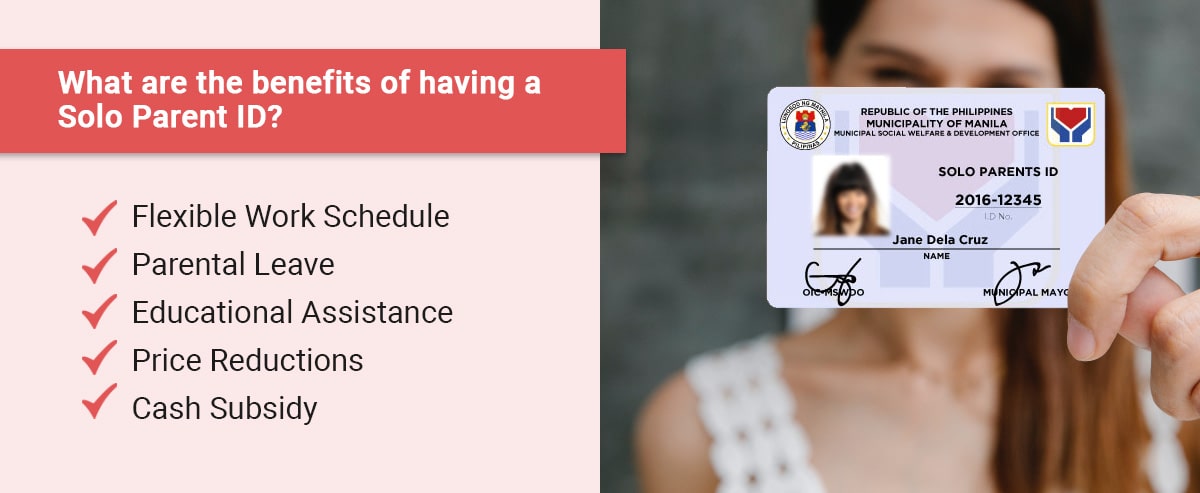 Having a Solo Parent ID provides access to various benefits and support, including:
Flexible Work Schedule: Employers are encouraged to provide flexible work arrangements to solo parents to accommodate their parental responsibilities.

Parental Leave: Solo parents are entitled to seven days of parental leave per year. This is not convertible to cash and is not cumulative if not used.

Educational Assistance: Educational assistance for solo parents' children, including scholarships and grants.

Price Reductions: Thanks to RA 11861 (Expanded Solo Parents Welfare Act of 2022), solo parents can now access extra price reductions when buying different items from drug stores, pharmacies, grocery stores, and similar shops.

Cash Subsidy: Apart from discounts, eligible solo parents who earn the minimum wage will receive an extra monthly cash subsidy of Php 1,000.
Other Reminders:
The Solo Parent ID is valid for one year and the ID holder must renew this at the DSWD office upon expiration.

The Solo Parent ID is considered a valid government-issued ID and may be used as proof of identification in private and government transactions.

If a holder of a Solo Parent ID is found to have married or re-married, the ID may be revoked.

If the children of a Solo Parent ID holder are given up for adoption, the benefits will be terminated.

The Parental Leave entitlement are available to a Solo Parent ID holder who has rendered at least one year of service, whether continuous or broken. The ID holder must have properly informed his or her employer that he or she will be taking a leave and the notice must have been done within the timeframe prescribed by the employer or as stated on the employment contract or handbook. The employee must present his or her valid Solo Parent ID upon leave application.
In the journey of solo parenting, challenges may arise, but remember that your determination and strength can overcome any obstacle. As you consider applying for a Solo Parent ID, keep in mind that this simple card holds within it a gateway to valuable resources and support tailored to make your path a little smoother. Embrace the opportunities it brings and let them serve as a reminder that you are not alone in this journey. Just as a single arrow may be easily broken, a bundle of arrows is unbreakable. Your dedication and love as a parent are your greatest assets. Keep moving forward, for every step you take shapes a brighter future for both you and your children.