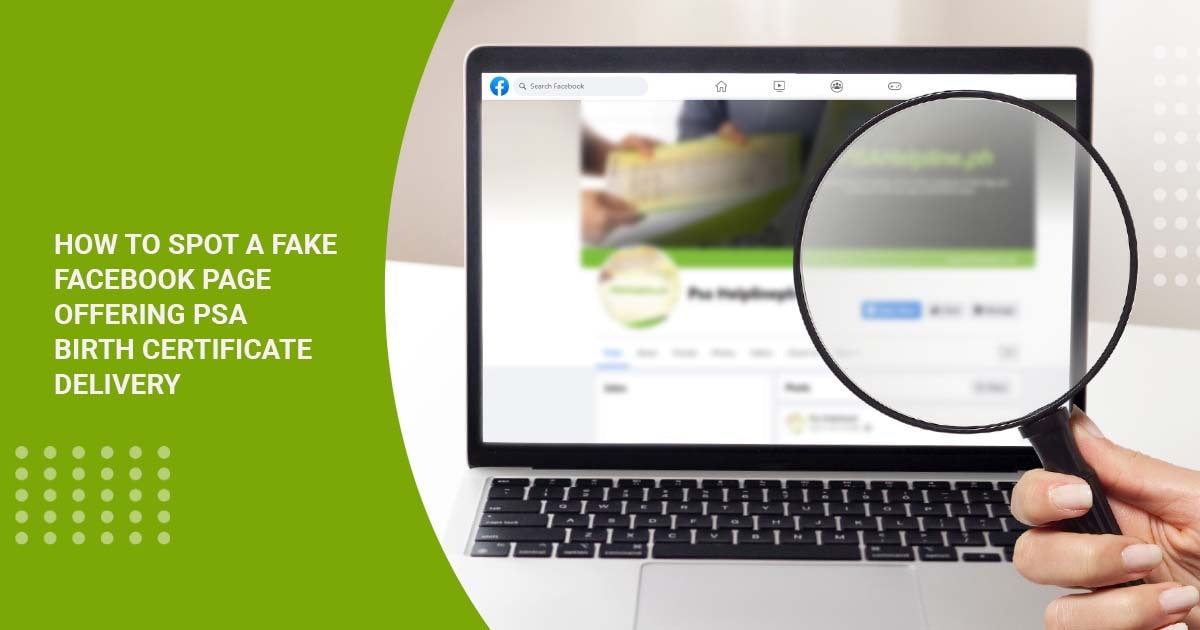 In this digital age, the convenience of online services has revolutionized how we obtain essential documents such as PSA birth certificates. However, with the rise of illegitimate entities attempting to take advantage of unsuspecting individuals, it is also crucial to be vigilant when engaging with online platforms. One of the easiest ways to make money delivering PSA certificates is to create a page on Facebook where one can freely advertise the online ordering and delivery service. By using photos grabbed from legitimate service providers like PSAHelpline and by setting up a payment channel using mobile wallet apps and remittance centers, these "online sellers" can market their delivery services to just about anyone who is on Facebook.
The problem with unauthorized Facebook pages that offer home delivery of civil registry documents extends beyond the issue of service fulfillment. While it is true that some of these pages may deliver the promised PSA certificates, the core concern lies in their lack of authorization from the PSA to handle such orders. By engaging with these unauthorized groups, individuals unknowingly grant them access to their personal data and sensitive information. This includes not only the document itself but also delivery addresses, phone numbers, and potentially other private details. Consequently, this places individuals at risk of identity theft, fraud, or misuse of their personal information.
The PSA, as the official government agency responsible for civil registry documents, has established protocols and security measures to protect individuals' personal information. Authorized service providers adhere to these guidelines to ensure the safety and privacy of their customers. Unauthorized Facebook pages offering document delivery services may lack the necessary security measures, making them susceptible to data breaches or mishandling of personal information.
This article will guide you on how to spot and avoid illegitimate Facebook pages that claim to offer PSA birth certificate delivery services, ensuring that your personal information and hard-earned money remain safe.
Verify the official website and Facebook page.

Always begin by verifying the official website and Facebook page of the service provider. The official website of PSAHelpline is www.psahelpline.ph, while its official Facebook page is https://www.facebook.com/PSAHelpline.ph. The authentic Facebook page will typically have a significant number of followers and official contact details.

Check for consistency and accurate information.

Illegitimate pages may try to mimic the appearance of the official page by using similar (if not stolen) logos, images, and content. However, upon closer inspection, discrepancies might become apparent. Look for misspellings, grammatical errors, or inconsistent information that might suggest a fake page.

If the page owner copied the images from a legitimate source, you might notice watermarks that have been blurred out or photos that appear cropped and awkwardly sized.

Proper communication channels are available for clients or customers

PSAHelpline has a hotline number and email support where customers may reach out to when they need to make a follow-up on a paid order or if they simply have questions or clarifications. Beware of pages that solely rely on social media messaging platforms, text messaging, or those that are totally unable to provide alternative ways to contact them. PSAHelpline does not engage or transact with customers through Facebook Messenger. All orders are received only through the website and all customer inquiries and communications are received through the hotline and email customer support.

Research User Reviews and Testimonials

Genuine service providers often have a history of positive user reviews and testimonials. Conduct a quick search online to see what other people are saying about the service. Pay attention to how the service provider responds to good and negative reviews about them. If you come across numerous complaints and negative feedback that are left unanswered, it's a red flag that the page might be illegitimate.

Avoid paying through unverified channels

Illegitimate pages or unauthorized groups offering PSA certificate delivery services may ask for payment through unconventional methods such as personal bank accounts and mobile payment apps. Always insist on using the official payment channels listed on the legitimate website to ensure that your payments are secure.

Cross-check with the official page of PSA

You may verify the legitimacy of the service provider with the Philippine Statistics Authority or check their list of accredited partners to ensure that the service provider is authorized to handle PSA birth certificate deliveries. PSAHelpline's logo and a direct link to its website are listed under the Frontline Services on the homepage of PSA.
PSAHelpline.ph is a trusted and authorized service provider recognized by the Philippine Statistics Authority (PSA) to accept, process, and deliver PSA certificate orders nationwide. It is backed by a legitimate website which also serves as a secure platform for placing orders. They have established partnerships with various banks, payment hubs, and digital wallets to provide a wide range of payment channels for added customer convenience. The credibility of PSAHelpline is further reinforced by its substantial following on Facebook, with over 450,000 followers. This significant social media presence serves as a testament to their reliability and commitment to customer satisfaction.s
To address inquiries and concerns promptly, PSAHelpline.ph also offers a dedicated hotline and email support system. Their customer service team is available to assist, whether one is only about to place an order or would like to follow up on a paid PSA certificate application.
Your civil registry documents contain very important and very personal details that should not be made available to anyone other than your intended audience. Make sure to entrust the handling and delivery of these documents to authorized entities such as PSAHelpline.ph or simply visit a PSA CRS outlet near your area to personally request copies of your PSA certificates.