If you need a copy of your PSA birth certificate, marriage certificate, or CENOMAR, or maybe even a loved one's death certificate, you can choose one of three ways to request for a copy:
Get an appointment at the nearest PSA Civil Registry System (CRS) outlet and request for a copy over the counter.
Order your PSA certificate online at PSAHelpline.ph and have it delivered to you.
Or call the PSA hotline and request for a copy over the phone and have it delivered to you.
Getting a copy at a PSA CRS Outlet
The Philippine Statistics Authority (PSA) implemented the PSA Online Appointment System last year to provide a more organized, systematic, and efficient way for Filipinos to personally request for civil registry documents at PSA outlets nationwide. To get an appointment, you need only to logon to https://appointment.psa.gov.ph/. Setting an appointment is free of charge; you may also change or cancel your appointment within a given timeframe.
When you have a confirmed appointment, you are sure to be attended to when you visit your chosen PSA CRS outlet. You may request for copies of your own PSA certificates and those of your family, relatives, and other people.
To view the complete details on how to set an appointment online, as well as the list of IDs and documents you need to bring to the PSA, click here.
Requesting for a PSA certificate online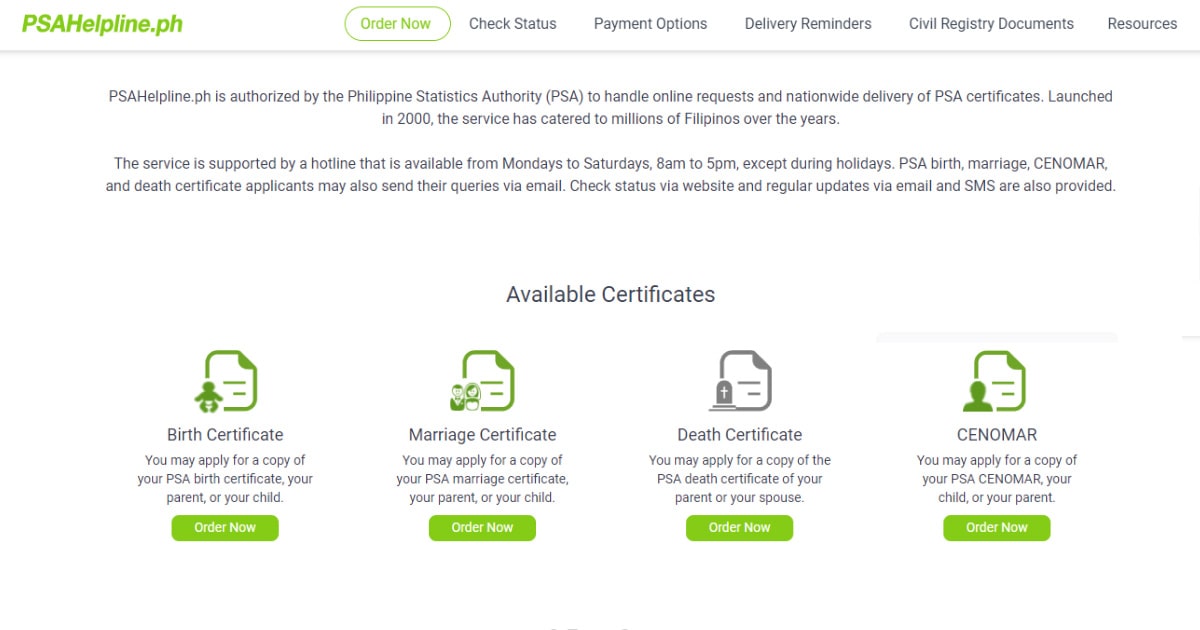 Online ordering and home delivery is the new normal of shopping for most Filipino households. Everything from food, to clothing, to kitchen essentials, school and office supplies, car parts and accessories, even plants and gardening tools can now be ordered online and dropped off at our doorsteps. It is widely accepted as the more convenient, safe, and efficient way to get the things we need while we wait out the pandemic.
If daily essential needs can be ordered online, why not essential documents such as PSA birth certificates, marriage certificates, death certificates, and CENOMAR?
Well, now we can through PSAHelpline.ph.
PSAHelpline.ph is every Filipino's fast and convenient way of getting PSA certificates. All you must do is submit your order through the website, pay online or at any participating payment outlet, and wait for your orders to be delivered to your doorstep. Metro Manila orders are delivered in 3 to 4 business days, and 3 to 8 business days for provincial deliveries.
Ordering online is available to certificate owners and authorized requesters (parents and children of certificate owners). Couriers will also require valid identification before releasing the document to the requesting party. You may also check the order and delivery status on the website using your order reference number.
To order online, click here.
Requesting for a PSA certificate through the PSA Hotline

There is also an option to call the PSAHelpline hotline to order your PSA certificates. The number to call is (02) 8-737-1111. The hotline is available from Monday to Saturday, 8AM to 5PM, except during holidays. If you are calling from outside Metro Manila or are using a mobile phone to call, long distance charges will apply.
Apart from placing an order for PSA certificates, you may also inquire about the status of an existing paid order by calling the hotline. It doubles as a customer support channel for clients who ordered through the PSAHelpline.ph website.
Whether you decide to order your PSA certificate online or through the hotline, you are assured of safe and hassle-free processing and delivery of your most important documents. Try it today.