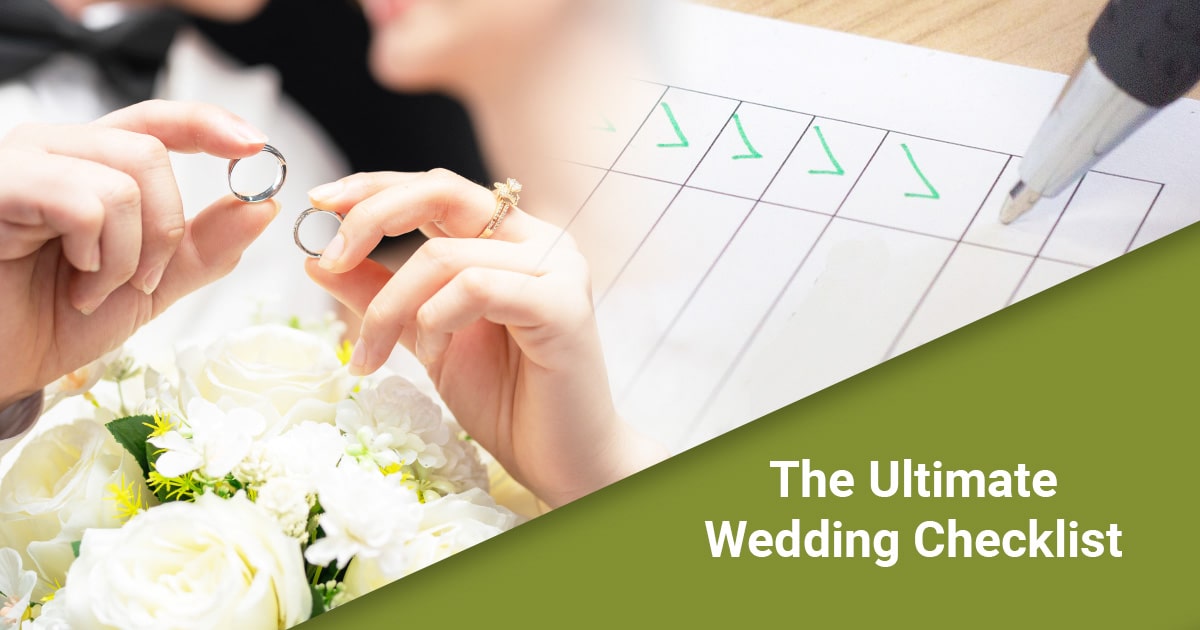 Planning your wedding can be overwhelming. Whether you have a year to do it or a few months, preparing for one of the most important and memorable events of your life can, literally and figuratively, take your breath away. You need all the help you can get to maximize your preparation time, save money and resources, and still be able to achieve the wedding of your dreams.
The internet is an abundant source of information for Filipino wedding coordination, affordable wedding packages, and endless lists of best places to get married in. And for as long as you know where to look, you are sure to find helpful and legitimate wedding information online.
We hope that this ultimate wedding checklist we prepared will help you sort all the things you need to do before, during, and after your wedding. But, before anything else: Congratulations and best wishes!
Before the wedding:
Decide on the wedding date.

You need to know when you want to get married so you can project your preparation timeline more realistically. Also, some elements in your wedding preparation such as your marriage license and PSA CENOMAR have expiration dates. You will be able to schedule your visit to the city hall for your marriage license application better if you know when you will be tying the knot.

Set your wedding budget.

In the Philippines, the wedding expenses are normally shouldered by the bride and groom. Sometimes, parents and godparents give monetary gifts to the couple to add to their budget. It is important that you and your soon-to-be spouse agree on a budget and the schedule of payments for wedding suppliers.

Decide whether you're having a Church Wedding or a Civil Wedding ceremony.

Make a reservation at the church if you decide to have a church wedding. Otherwise, decide on the venue where you plan to hold the civil wedding ceremony.

Once you have chosen the best venue for your wedding, pay the reservation fee to secure your occasion's date.

To save on reservation fees, styling fees, and logistics, some couples choose to hold their wedding ceremony and reception in one place (such as a garden or beach wedding venue). This way, you only pay for one venue, instead of two. It would also mean comfort and convenience for your guests (especially the senior citizens) since they no longer need to drive to a different location for the reception. Check with your parish or the solemnizing officer if they can accommodate this kind of wedding.

Prepare your civil registry documents, valid IDs, and other documents needed by the church and the city hall.

Apply for a marriage license only after you have set a wedding date. The marriage license is valid for 120 days only. Should it expire before you get to tie the knot, you must apply for a new one so that you would have a valid marriage license on the day of your wedding.

To get a marriage license, you need to submit copies of your PSA birth certificate and PSA Certificate of No Marriage (CENOMAR). Although the CENOMAR itself does not have an expiration date, city and municipal halls require that you submit one that is no more than six months old.

Related: How to Get a Marriage License at the Quezon City Hall

Decide if you will get a Wedding Planner or Coordinator

Decide if you should get the wedding planner's full services (helps you find suppliers, helps you budget your expenses, runs wedding errands for you, etc.) or on-the-day coordination only (they help you organize your wedding program only).

Don't forget to ask for help from your friends and family, too. This helps you cut down on coordination costs.

Work on the following essentials:

Choose your theme, motif, or color scheme as this will dictate the designs and styles of all the other elements in your wedding.
Have your wedding bands/rings made (or buy ready-made ones at reputable jewelry stores).
Draw up your entourage list and get in touch with them.
Draw up your guest list

Wedding suppliers you need to find and book:

Photographer and videographer. Decide too if you would like to include a photobooth for your guests during the reception.
Bride and Groom's attire (ceremony and reception clothes). Decide who pays for the entourage's clothes.
Caterers, mobile bar, dessert bar suppliers.
Hair and make-up stylists.
Wedding cake
Invitations
Souvenirs, party favor giveaways.

Final Arrangements Before the Big Day

Send out your invitations and finalize the RSVP list.
Make sure your bridesmaids and grooms' men all have their gowns and suits.
Fit the wedding gown and groom's suit and have final adjustments done.
Write your vows.
Check that all your suppliers are up to date and prepared.
One day before the wedding
Turn-over final payments and tips to your wedding coordinator. He or she must also have a copy of your complete wedding checklist, so your team of suppliers do not miss anything. Provide one of your friends or relatives a copy of the checklist for double-checking.
Write your vows (if you haven't yet) and keep a written copy as well as a digital copy as back-up.
Keep in close contact with your wedding coordinators for any last-minute changes or updates.
During the wedding
Turnover all errands and to-do list to your wedding coordinators (or your designated relatives and friends).
Eat and hydrate before the event. If you're feeling a bit jittery, go for a short walk or jog before getting ready.
Keep these essentials nearby: mints and balms, tissue paper, and drinking water.
Relax and enjoy your big day!
And then again, you can never really prepare enough for anything as grand and as memorable as your wedding day. So, keep a happy and positive disposition throughout your celebration. Leave all your worries and troubles at the foot of the aisle and enjoy every moment with your new spouse. Remember, you are not hosting a stage play – you are getting married. And that is all you need to accomplish on your wedding day – nothing more, nothing less.