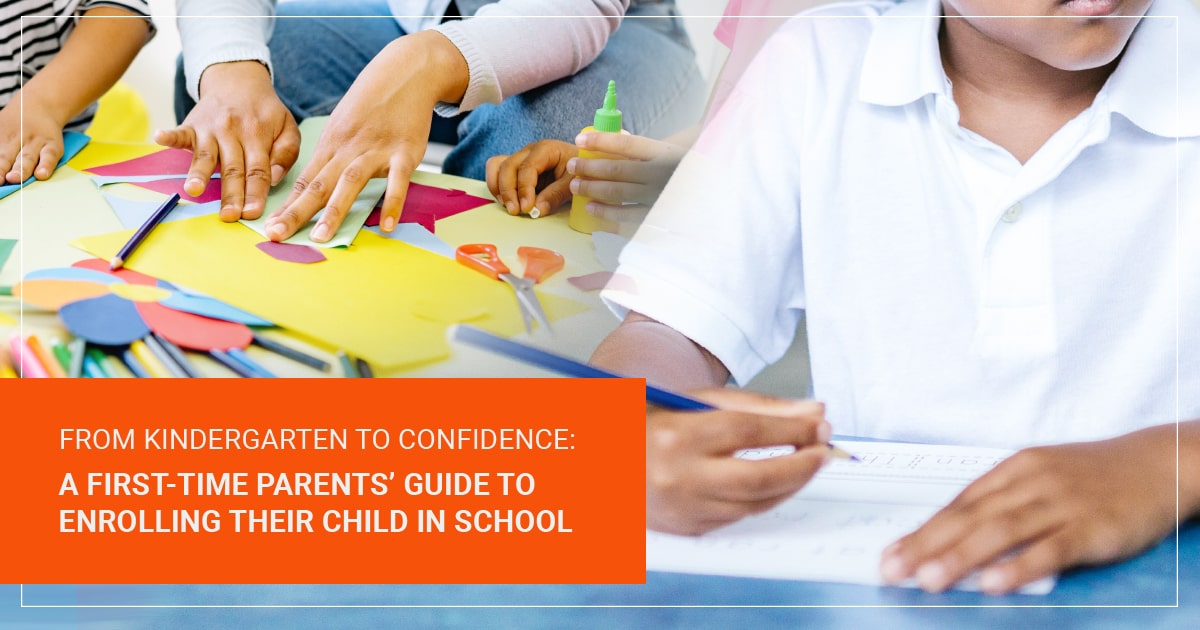 Enrolling your child in school marks the beginning of their formal education journey. It is a milestone, both for your child and you as the parent, as you both agree to step out of your comfort zone and head out to school. You must have a lot of questions, a touch of nervousness, and a bit of excitement as you watch your kid trot up the school gates and get lost in a sea of preschoolers.
If this is your very first time as a parent enrolling your child in school, it is important to be well-informed about the enrollment requirements and processes and what you may expect. If you are prepared with all the documents, forms, and IDs required during enlistment and school admission, you can better focus on the other important factors such as the school's culture, safety and security of the campus, and academic and extracurricular programs available for your child. By planning, asking questions, and staying involved, you can make the enrollment process simpler and stress-free.
The first step in enrolling your child in school is to understand the enrollment process. This may vary from school to school, but there are some general steps that most schools follow. Here are some of the usual steps in the enrollment process:
Pre-enrollment Requirements

Before you can enroll your child in school, there are some pre-enrollment requirements that you need to complete. These may include submitting your child's PSA birth certificate, vaccination records, and other important documents. Your child's birth certificate may be ordered at authorized PSA online sites such as PSAHelpline.ph. Some schools also require parents to submit their PSA marriage certificate, when applicable. That, too, is available through online documents request and delivery. Make sure to inquire about these requirements from the school where you plan to enroll your child.

Application and Registration

Once you have completed the pre-enrollment requirements, you can proceed with the application and registration process. This typically involves filling out an application form and paying a registration fee.

Orientation

Many schools conduct an orientation for new students and their parents. This is a great opportunity to learn more about the school's policies, procedures, and curriculum. You will also get to meet the teachers and other school staff during such meetings so find time to attend, take notes, and ask questions.

Assessment

Some schools may require an assessment or entrance exam before admitting new students. This helps the school determine the child's aptitude and ensure that he or she is placed in the appropriate grade level and is ready for the academic demands of the school.

Admission

After completing the application and assessment, you will be informed by the school of their admission process and requirements. This may also include the details about your child's schedule, class assignments, and other important information.
Tips for a smooth enrollment process (especially for first-time parents!)
Proper preparation can help parents navigate the enrollment process, which can be complicated and time-consuming. This can also help parents make informed decisions about their child's education by having enough time to evaluate a school's curriculum, culture, and academic programs and extracurricular activities. These information are important and parents must know whether what a school can offer are aligned with their child's needs and interests and the fees are within their budget.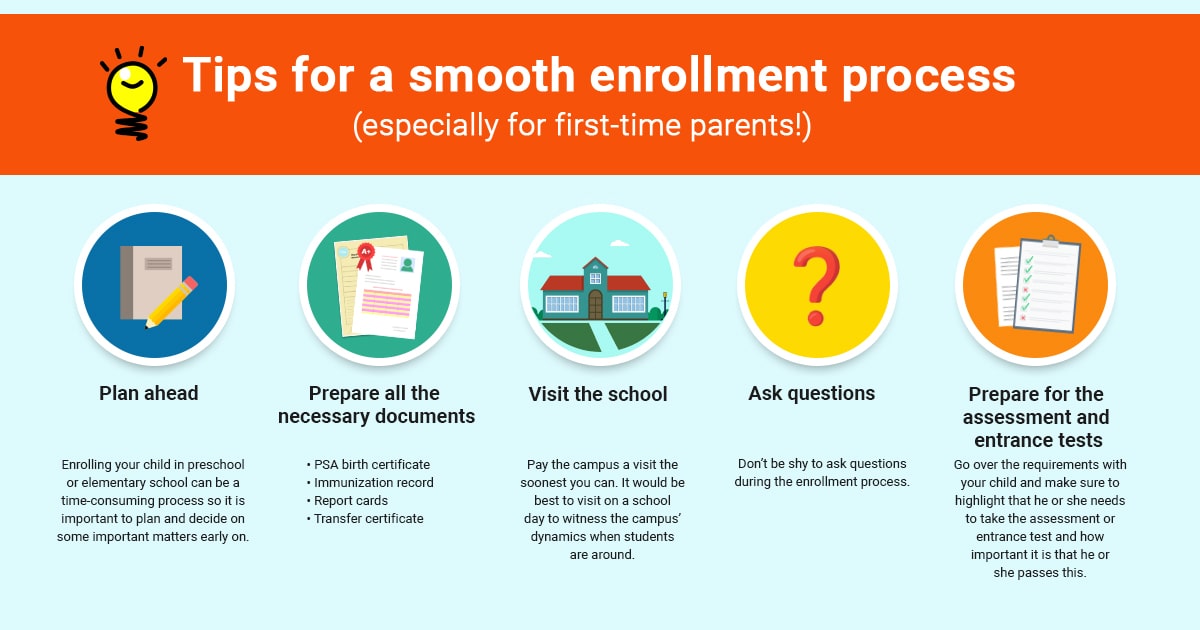 Here are some tips to make the enrollment process as smooth and stress-free as possible:
Plan ahead

Enrolling your child in preschool or elementary school can be a time-consuming process so it is important to plan and decide on some important matters early on. These factors include whether your child will attend a private or public school, will it be one that is near your home or your place of work, and will you be particular with the religious affiliation of the school? Start the process early and make a list of all the requirements and deadlines. This will help you stay organized and avoid last-minute stress.

Prepare all the necessary documents

You will need to provide certain documents, such as:

PSA birth certificate – this document proves your child's age and parentage.
Immunization record – this should inform the school of your child's immunization history and health conditions, if any.
Report cards – some schools include this as an admission requirement to show your child's academic history.
Transfer certificate – this is required if your child is transferring from another school.

Visit the school

Pay the campus a visit the soonest you can. It would be best to visit on a school day to witness the campus' dynamics when students are around. Check the schools' proximity and accessibility to and from your home or your place of work or business.

Ask questions

Don't be shy to ask questions during the enrollment process. Write down all the things you would like to clarify and find the time to sit down with a school staff, a faculty member, or the school registrar and guidance counselor and go over your concerns. Doing this will help you make the decision to enroll your child at their school or find a more suitable campus elsewhere.

Prepare for the assessment and entrance tests

Go over the requirements with your child and make sure to highlight that he or she needs to take the assessment or entrance test and how important it is that he or she passes this. Prepare your child mentally and physically and as much as possible, accompany your child to the school on test day. It helps a lot if your child knows that you will be the first person they see when they emerge from the testing center.
There are no hard and fast rules about enrolling your child in school. The secret, always, is to know what you need to prepare beforehand. Of course, it pays to have a little extra just in case: extra copies of your important documents such as your child's birth certificate, baptismal certificate, and health records, other campuses you may consider, and scholarship opportunities (just like when you enrolled in high school and college!). Start looking for schools early – yes, a year or so before your child is physically and mentally ready to attend school is a good time to begin planning. This minimizes your risk of going into a frenzy during the actual enrollment season.
And lastly, don't forget to have fun and create core memories with your little one. It is, after all, a milestone for your child. Take photos, keep mementos such as the results of his entrance exams or his first school ID. It'll be nice to look back to this moment when you and your child ventured into something strange and exciting together.
Good luck, parents! You can do this.