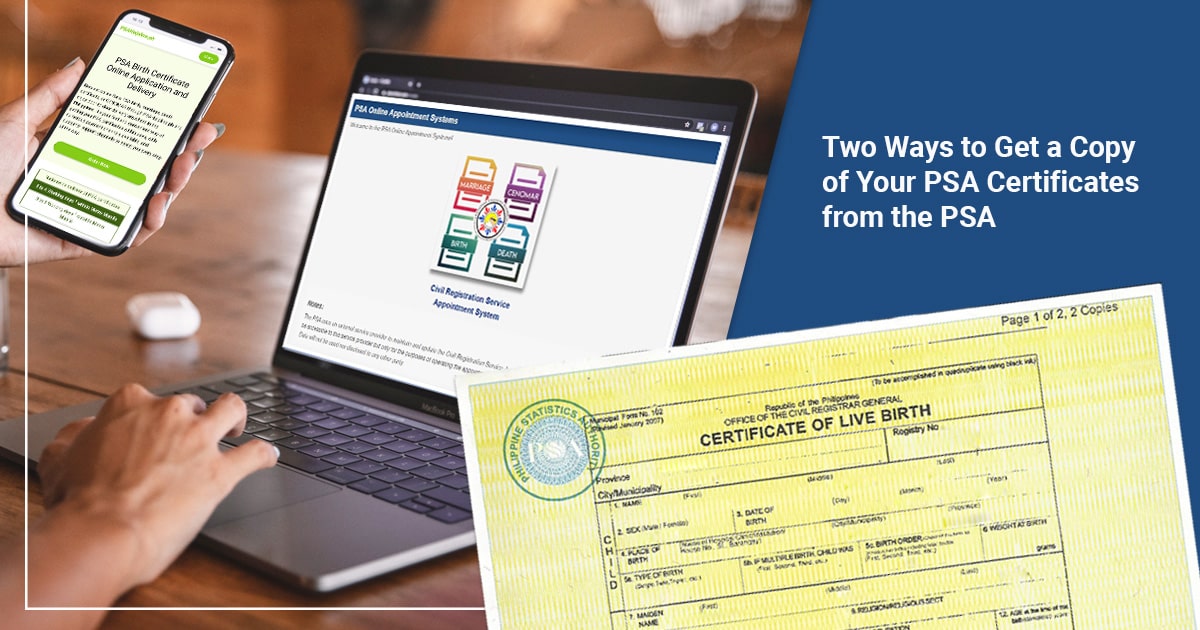 A copy of a PSA birth certificate, PSA marriage certificate, PSA death certificate, and PSA Certificate of No Marriage (CENOMAR) may be obtained in two ways: you could either visit a PSA CRS outlet and request for a copy over the counter, or you can order it online at PSAHelpline.ph and have the documents delivered to you. Ordering PSA birth certificates online is a safe and convenient option especially for those who work five days a week, and those who choose to remain at home and save their trips only for essential needs.
What is PSA CRS?

PSA stands for Philippine Statistics Authority – it is the central statistical authority of the government and is responsible for administering civil registration functions for the country.
CRS stands for Civil Registration Services – it represents the proper documentation, registration, and filing of civil registry documents that support an individual's right to recognition as a citizen of the country.
All birth, marriage, death certificates, and CENOMARs now bear the PSA logo.
Where is PSA located now?
The head office of the PSA is located at the PSA Complex, East Avenue, Quezon City. There are PSA CRS outlets nationwide that can cater to over-the-counter copy issuance applications.
Do we need to get an appointment to go to PSA?

Yes, all individuals who wish to request for copy issuance of their civil registry documents need to get an approved online appointment at the PSA CRS outlet they wish to visit. This can be done on the PSA Online Appointment Systems website.
Setting an appointment is free of charge.
How do I book an appointment with PSA?
You can easily set an appointment with the PSA by following these steps:
Log on to https://appointment.psa.gov.ph/ and click on the PSA CRS Appointment System image. This will take you to the Privacy Notice page.
Click on the I Agree button after you have gone over the Privacy Notice. You will be taken to the page where you can choose which PSA CRS outlet you would like to visit for your PSA certificate request. If the document you are requesting for underwent a legal proceeding, correction, or amendment, and this is the first time you are requesting for the corrected copy, please choose the East Avenue outlet. (If you have requested for the corrected copy before, you may choose any other outlet.)
Fill out the form with your details; make sure to provide a working email address and mobile number because PSA will send you your appointment sheet and verification code via email. Should there be changes on your appointment details, PSA will reach out to you through your mobile number.
Retrieve your 6-digit verification code from your email and type this on the OTP verification field. Click Verify.
Choose the PSA certificates you will be requesting; indicate your relationship to the owner of the document if you are requesting for someone else.
Select the date and time you wish to visit the PSA CRS outlet. You may also change the PSA CRS outlet in case there are no available time slots on your preferred date at the outlet you chose. Just click the Change Outlet button on the upper right portion of the page.
You will be taken to a Summary page where you can go over all the details of your appointment. Click the Confirm button after you have checked that all entries are correct and final.
You will receive a Civil Registration Service Appointment Slip with a QR code in your email. This shall be your proof that you have a confirmed appointment at that PSA CRS outlet. Present this at the outlet during your visit (you may print it out or keep a screenshot in your phone, make sure the QR code is clear and can be easily scanned).
On your appointment date, be at the PSA CRS outlet on time and with all the necessary documents for your request. If you are requesting the PSA certificates of another person, make sure you have a signed authorization letter from him or her, as well as his or her valid ID. As an authorized representative, you may only request for up to two individuals not related to you
Observe proper health protocols while at the PSA outlet. Keep your mouth and nose covered by a face mask, sanitize your hands with your own alcohol or sanitizer, bring and use your own pen when filling out forms, and keep a safe distance from others while waiting.
How do I cancel an appointment with PSA?
You may cancel your appointment by following this procedure:
Open the Appointment Confirmation email you received after you have confirmed your appointment.
There are three buttons at the bottom of the email: View Appointment, Reschedule, and Cancel. Click on Cancel.
You will be taken to the CRS Appointment page and you will be asked to provide your reason for cancelling your appointment.
Click the Confirm button after you have provided your reason for cancelation.
How much is PSA online delivery?
You have the option to order your PSA birth certificate online and have it delivered to you. PSAHelpline.ph is authorized by the PSA to receive, process, and deliver orders for PSA birth certificate, PSA marriage certificate, PSA death certificate, and PSA CENOMAR.
The rates for the PSA certificates when ordered through PSAHelpline.ph are:
Birth, Marriage, and Death Certificates – PHP 365.00
CENOMAR – PHP 420.00
The rates already include the processing and delivery fees.
How do I order my PSA birth certificate online?
Just logon to PSAHelpline.ph and click the Order Now button. Follow the ordering process and choose the payment method that is most convenient for you. Once paid, just wait for the delivery of your PSA certificates. If you are from Metro Manila, you will receive your orders in three to four working days, while provincial orders are delivered in three to eight working days.