PSA CENOMAR
A Guide to Online and Walk-in Application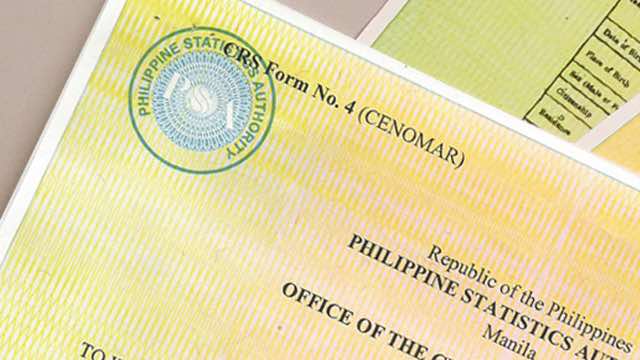 A Certificate of No Marriage Record (CENOMAR) is a certification issued by the Philippine Statistics Authority (PSA) stating that a person has never contracted any marriage.
Also called Certificate of Singleness, this document is required in obtaining a marriage license. It is also often used as a supporting document for fiancé or fiancée visa application, employment, and loan and claims application, among others.
If you need a copy of this civil registry document, here's a comprehensive guide to the online and walk-in application procedure.
Table of Contents
What is a PSA CENOMAR?
A CENOMAR is a document stating that the person whose name appears on the document is single and free to marry without any legal impediments.
According to the PSA, a divorcee, widow or widower, or someone whose marriage was annulled is not deemed "single." They are considered "unmarried," and their previous marriage will appear on their PSA CENOMAR.
How to Get a CENOMAR Online
If you don't have the time to head out and process your CENOMAR application in person, you can order a copy online. PSAHelpline.ph is a platform authorized by the PSA to help facilitate the application procedure and issue a CENOMAR. Here's how to get a CENOMAR online.
Online Application Procedure
On the PSAHelpline.ph website homepage, click the "Order Now" button on the right side of the page. You can also find the "Order Now" button in the header.
When the next page appears, click the "CENOMAR" button. Tick the box at the bottom to agree with the terms and conditions. Once done, click "Continue."
A page will be displayed showing two options. If you're requesting your PSA CENOMAR, select "My Own CENOMAR." If you're ordering for someone else, choose "For Someone Else." After confirming your option, click "Continue."
The next page will enumerate the details PSAHelpline.ph will collect from you. Make sure to prepare the required information before proceeding with the process. Click "Continue."
Next, you will be required to provide specific information, including your sex, civil status (if female), first name, middle name, last name, birth date, and the type of your government-issued ID. Once done, click "Continue."
The next page will ask for your father's name. After supplying the information, click "Continue."
On the next page, enter your mother's name. Once done, click "Continue."
Indicate your birthplace on the next page, then click "Continue."
A page will show requiring you to specify your purpose in requesting a copy of your PSA CENOMAR. Choose your purpose among the options, then proceed to the next step.
Finally, you will be asked to provide your delivery address, mobile number, and email address.
A few reminders when completing the online application form:
Ensure your name and birthday match the details on your ID. Please note that you will be required to present the ID upon the delivery of your PSA CENOMAR.
Use an address where you can personally receive the requested PSA document.
It is not allowed to request a copy of someone else's CENOMAR if you are below 18 years old.
Online Application Payment Fees and Options
Once you accomplish the online application form, you will be issued a Reference Number, which you can use to check the available payment options. Currently, PSAHelpline.ph's payment partners include:
Visa
GCash
PayMaya
7-Eleven
Bayad
Palawan Express
BancNet
Metrobank
BPI
BDO
Dragonpay
The payment fee for each copy of a PSA CENOMAR is Php420.00, inclusive of the courier and service fees. You can pay through any of the following payment channels:
Credit card: You can pay using Mastercard or Visa card for real-time payment posting. Note that JCB and American Express cards are not supported as of writing.
ATM: Simply head to a BancNet ATM to settle the fee for your online application. Choose the Bills Payment option to settle the payment. Please note it may take a day or two for the payment posting to reflect, depending on the bank.
GCash: If you have a GCash account, you can settle the payment via the e-wallet option for a hassle-free transaction.
7-Eleven: You can go to a 7-Eleven store with a CLIQQ machine to pay for your order.
Bayad: If you prefer to pay through Bayad or TouchPay machines, make sure to check the selected Bayad outlets.
PayMaya: PayMaya e-wallet holders can pay through the app without extra charge.
If you want to check the status of your request, you can easily do so by clicking the "Check Status" tab in the header and input your 10-digit reference number.

Delivery Reminders
Delivery time takes three to four working days within Metro Manila. If the recipient's address is outside Metro Manila, it will take three to eight working days to deliver the document.
For security purposes, you will be required to present one valid government-issued ID to the courier upon the delivery of your requested PSA document.
You must receive the PSA document personally. The courier will not release the order to anyone else, even with an authorization letter. If you are not available on the delivery date, please make delivery arrangements with us by calling (02) 8737-1111, Mondays to Saturdays (excluding holidays), from 8:00 am to 5:00 pm.
For unsuccessful delivery attempts, you may call us at (02) 8737-1111, Mondays to Saturdays (excluding holidays), from 8:00 am to 5:00 pm. You may also reach us via email at help@psahelpline.ph or chat with us on Facebook at PSAHelpline.ph.
All undelivered documents after two attempts shall be returned to the PSA after 30 calendar days, and payments made for the documents shall be forfeited. You may place a new order by visiting PSAHelpline.ph.
How to Get a CENOMAR (Walk-in)
If you have the time, you or your representative can process your PSA CENOMAR in person at the nearest Census Serbilis Center. Here's how to get a CENOMAR in person:
Requirements:
Whether you're processing your CENOMAR or someone else's, you must present a valid ID to identify yourself and the owner of the document. The PSA accepts any of the following IDs:
Passport
SSS/GSIS/Pag-IBIG/PhilHealth ID
Driver's License
Professional Regulation Commission ID
Voter's ID
Senior Citizen's ID
PhilPost ID
Employee ID
NBI Clearance
Authorization letter from the document owner if you're obtaining a CENOMAR for someone else.
Walk-in Application Procedure
Complete the CENOMAR requirements.
Proceed to the nearest Census Serbilis Center to process your request.
Fill out the application form.
Get your queue number from the officer at the entrance. Once your number is called, present the accomplished application form and a valid ID at the Screener's Desk. You will be informed of the release date of your PSA CENOMAR.
Proceed to the cashier and pay for each copy of the CENOMAR. Be sure to keep the official receipt.
On the release date, claim your PSA CENOMAR by presenting your official receipt.
Frequently Asked Questions
Can I order a CENOMAR online for a family member?
You may order a PSA CENOMAR for your child or parents. If you wish to order for other relatives, you may proceed to the nearest PSA Serbilis Center.
Does a CENOMAR have an expiration date?
Like a birth certificate, a CENOMAR doesn't have an expiration date. However, some requesting companies or agencies require that a CENOMAR be not more than six months old from the date of its issuance. If this is the case, you may place a new request if your certificate has been issued beyond the six-month period.
Why do I need a CENOMAR?
It is one of the requirements when applying for a marriage license when you are planning to get married. It is also needed for some legal concerns or identification.
Process Your PSA CENOMAR Fast and Easy
As long as you have the documentary requirements to process your request, applying for a PSA CENOMAR will be a breeze.
If you need a CENOMAR, you can process it in person through the nearest Census Serbilis Center. If you prefer to order a copy from the comfort of your home, PSAHelpline.ph offers a hassle-free online application process!