PSA Death Certificate
A Guide to Online and Walk-in Application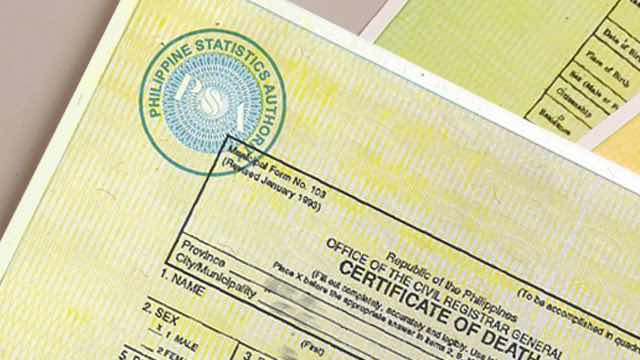 When you lose a loved one, one important document you will need in managing their final affairs is a death certificate. This document is the only legal proof that verifies someone's passing.
There are several reasons to claim a death certificate in the Philippines. Apart from being a document required when arranging a funeral, it's also a supporting document in claiming insurance and pension benefits and settling an estate.
If you're handling your loved one's affairs after they pass away, know that claiming a death certificate isn't that complicated. However, there are some details you need to keep in mind. In this guide, we'll go over how to get a death certificate online and in person.
Table of Contents
What is a PSA Death Certificate?
A death certificate is an official document that contains the details of a person's death, including their name, place, and date of death. This is signed by a licensed physician authorized to determine the time, date, and cause of death.
Once the details in the death certificate are complete, it is submitted for proper registration to the Local Civil Registry Office (LCRO) of the city or municipality where the person died. A record of the person's death is then entered into the death register so that the person's PSA death certificate can be processed once the LCRO submits the document for certification to the Philippine Statistics Authority (PSA).
How to Get a PSA Death Certificate Online
If you don't have the time to go out and process the application in person, you can opt for the death certificate online application through PSAHelpline.ph. The platform is authorized by the PSA to issue PSA death certificates and helps facilitate the application procedure.
PSA Online Application Procedure
On the PSAHelpline.ph website homepage, click the "Order Now" button located on the right side of the screen. Alternatively, click the "Order Now" button in the header.
When the next page appears, click the "Death" button. Check the box at the bottom to accept the terms and conditions, then click "Continue."
A page will appear asking whose death certificate you're requesting. After confirming your choice, click "Continue."
The next page will show the information PSAHelpline.ph will collect from you. Make sure you have the required data on hand before proceeding with the process. Click "Continue."
You will then be asked to provide certain information, such as your first name, middle name, last name, birth date, sex, civil status (if female), and the type of your government-issued ID. After completing the form, click "Continue."
On the next page, enter the name of the person whose death certificate you're claiming and their civil status. Once done, click "Continue."
On the next page, input the date when the deceased passed away, then click "Continue."
On the next page, indicate the place of death, then click "Continue."
On the next page, you will be asked to specify your purpose for requesting a copy of the death certificate. Choose your option and click "Continue."
Finally, you will be asked to provide your delivery address, mobile number, and email address.
A few reminders when filling out the PSA online application form:
Make sure your name and birthday match the details on your ID. Please note that you will be required to present the ID upon the delivery of the death certificate.
Use an address where you can personally receive the requested PSA document.
You are not allowed to request a copy of someone's death certificate if you are below 18 years old.
Online Application Payment Fees and Options
Upon completing the online application process, you will be issued a Reference Number, which you can use to check the available payment options. Currently, PSAHelpline.ph's payment partners include:
Visa
Gcash
PayMaya
7-Eleven
Dragonpay
Bayad
BDO
Palawan Express
BPI
BancNet
The payment fee for one copy of a PSA death certificate is Php365.00, inclusive of courier and service fees. You can pay through any of the following payment channels:
Credit card: You can pay using Mastercard or Visa card for real-time payment posting. Please note that JCB and American Express cards are currently not supported.
ATM: Simply visit a BancNet ATM to settle the fee. Select the Bills Payment option to complete your transaction. Please note that payment posting may take a day or two, depending on the bank.
7-Eleven: You can visit a 7-Eleven branch with a CLIQQ machine to settle the payment for your application.
GCash: If you have a GCash account, you can pay through the e-wallet option.
Bayad: You can pay through select Bayad outlets or TouchPay machines.
PayMaya: PayMaya e-wallet holders can pay through the app.
To check the status of your request, click the "Check Status" tab in the header and input your 10-digit reference number.

Delivery Reminders
Delivery time takes three to four working days within Metro Manila. If the address is outside Metro Manila, it can take three to eight working days.
For security purposes, you will be required to present one valid government-issued ID to the courier upon the delivery of the requested PSA document.
You must receive the PSA document personally. The courier will not release the document to anyone else, even with an authorization letter. If you are not available on the delivery date, please make delivery arrangements with the PSA by calling (02) 8737-1111, Mondays to Saturdays (excluding holidays), from 8:00 AM to 5:00 PM.
For unsuccessful delivery attempts, you may call (02) 8737-1111, Mondays to Saturdays (excluding holidays), from 8:00 AM to 5:00 PM. You may also reach us via email at help@psahelpline.ph or chat with us on Facebook at PSAHelpline.ph.
All undelivered documents after two attempts will be returned to the PSA after 30 calendar days, and payments made shall be forfeited. You may place a new order by visiting PSAHelpline.ph.
How to Get a PSA Death Certificate (Walk-in)
You can request for a PSA death certificate by visiting the nearest PSA CRS Outlet. When you claim a death certificate through the walk-in application, the document will usually be issued within the same day. However, there are certain steps that you need to follow first like setting an appointment schedule (see Walk-In Application Procedures below).
Requirements
One valid ID
Authorization letter (if applicable)
PSA accepts any of the following IDs:
Philippine Identification Card
Philippine Identification System Digital ID (ePHILID)
Philippine Passport issued by the Department of Foreign Affairs (DFA)
Driver's License issued by the Land Transportation Office (LTO)
Professional Regulations Commission (PRC) ID
Integrated Bar of the Philippines (IBP) ID
Government Service Insurance System (GSIS) Unified Multi-Purpose ID/eCard
Social Security System (SSS) Unified Multi-Purpose ID
Home Development Mutual Fund (Pag-IBIG) Transaction/Loyalty Card
Voter's ID issued by the Commission on Elections (COMELEC)
Postal ID issued by Philippine Postal Corporation (PhlPost)
Senior Citizen's ID Card issued by the Office of Senior Citizens Affairs (OSCA) and/or local government units (LGUs)
OFW IDs issued by the Department of Labor and Employment (DOLE)
Overseas Workers Welfare Administration (OWWA) ID
Seaman's/Seawoman's Book issued by the Maritime Industry Authority (MARINA)
Diplomat/Consular ID issued by the Philippine Embassy
National Bureau of Investigation (NBI) Clearance
Philippine National Police (PNP) ID/Police Clearance
Department of Social Welfare and Development (DSWD) Certification/4Ps ID
Barangay ID/Certification with picture and signature
Person with Disability (PWD) ID issued by the National Council on Disability Affairs (NCDA) or its regional counterpart, Office of the Mayor, Office of the Barangay Captain, DSWD Office and other participating organization with Memorandum of Agreement with the Department of Health (DOH)
IDs issued by National Government Offices (e.g., AFP, DAR, DENR, DOH, DOJ) including Government Owned and Controlled Corporations (GOCCs)
IDs issued by the Offices of the Local Chief Executives (Governor, ViceGovemor, Mayor and Vice Mayor)
Tax Identification Card (TIN) with a picture and signature issued by the Bureau of Internal Revenue
School/Student ID for currently-enrolled students, 18 years old and above, issued by reputable schools/colleges/universities recognized by the Department of Education (DepEd) or Commission on Higher Education (CHEd) signed by the principal or head of the academic institution
Company IDs issued by private entities or institutions registered with, supervised or regulated by the Bangko Sentral ng Pilipinas (BSP), Securities and Exchange Commission (SEC) or Insurance Commission (IC)
For foreign nationals, passport issued by foreign governments AND any of the following:

a. Alien Certification of Registration (ACR I-card)

b. Immigrant Certificate of Registration

c. Special Resident Retiree Visa issued by the Bureau of Immigration through the Philippine Retirement Authority
Walk-in Application Procedure
Here's how to get a death certificate:
Get an appointment slot from the Online Appointment System. On this site, you will choose the date, time, and PSA CRS Outlet for your application.
Once you have an appointment schedule, you can go to your chosen PSA CRS Outlet on the scheduled time and date to process your request.
Present the CRS Appointment Slip (printed or digital copy) to the Information Marshal for validation purposes.
Get Application Form (AF) and Queue Ticket Number (QTN).
Present/submit the corresponding fees, QTN, accomplished AF, valid IDs, Authorization Letter/Special Power of Attorney (SPA) and all supporting documents to the transacting window for screening and payment.
Check the Official Receipt (OR), and count the change, if any.
Proceed to the Releasing Area on the scheduled date and time of release.
Present and submit the OR, valid IDs, Authorization Letter/SPA and all supporting documents to the Releasing Officer.
Check the correctness and completeness of the received document.
Important Reminders
1. Be at the PSA CRS Outlet at least 30 minutes BEFORE your appointment schedule.
2. Bring valid IDs (document owner/s and authorized representative) that match to the names encoded.
3. Basic Fees:
Copy Issuance, Authentication and Annotation of Birth, Marriage and Death Certificates – P 155.00 per copy, CENOMAR – P 210.00 per copy
4. Authorized representative is not allowed to delegate to another person his/her authority to request for civil registry documents.
5. An authorized representative is only allowed to request for 2 unrelated individuals.
6. MINORS are not allowed to book an appointment.
7. Securing an appointment is FREE OF CHARGE and CRS appointment slip is NONTRANSFERABLE.
8. For concerns and inquiries, transact with authorized PSA personnel only.
Frequently Asked Questions
How can I correct an error in the deceased's first name in the Certificate of Death?
You or your lawyer can file a petition for correction of entry under Republic Act 9048. The petition may be filed by the deceased's spouse, children, parents, brothers, sisters, grandparents, guardians, or other duly authorized individuals. They may file the petition at the LCRO where the certificate was registered or at any LCRO through migrant petition. Since the details in a death record are considered public information, any error must be corrected immediately.
I requested a Certificate of Death, but I received a Negative Certificate instead. What does this mean?
This means that the death record is not yet available in the PSA archives. You can use the Negative Certification to request the LCRO of the place where the certificate of death was registered so that they can endorse a copy to the PSA.
Does a Certificate of Death expire?
No, a PSA death certificate has permanent validity. Regardless of its issuance date, government and private transactions should recognize and accept the document.
I've already paid for the Certificate of Death, but I still haven't received it. When will I receive it?
First, check the status of your application. Then, check the delivery time in your area. If the delivery is late, don't hesitate to call us at (02) 8737-1111, Mondays to Saturdays (excluding holidays), from 8:00 AM to 5:00 PM. You may also email us at help@psahelpline.ph or chat with us on Facebook at PSAHelpline.ph for assistance.
Process a PSA Death Certificate Fast and Easy
It's not easy to handle a loved one's final affairs, but applying for a death certificate is simple. You can process the document in person through the nearest PSA CRS Outlet and get the certificate within the day or order a copy from the comfort of your home through PSA online application.
PSAHelpline.ph offers a hassle-free online application process for PSA civil registry documents, including death certificate, birth certificate, marriage certificate, and Certificate of No Marriage or CENOMAR.