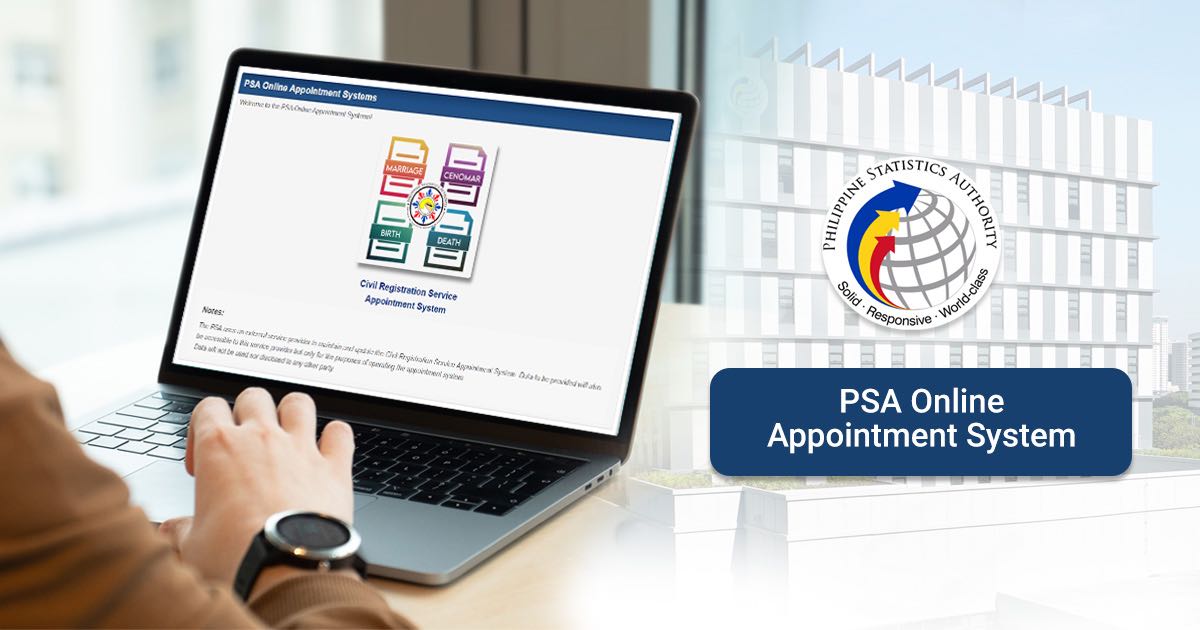 If you need a copy of a PSA birth, marriage, or death certificate or a CENOMAR, you can easily order for it online at PSAHelpline.ph and have the document delivered to you. You also have the option to visit a PSA outlet and personally request for it over the counter. This works best for individuals who are requesting the civil registry documents of relatives and friends as online ordering is available only when you are requesting PSA certificates for yourself, your children, or your parents.
Due to the pandemic, the Philippine Statistics Authority (PSA) recently deployed their online appointment system for Civil Registration Services. This means that if you want to visit a PSA outlet to request for PSA certificates, you must make an online appointment first. This way, the PSA can attend to all requests and concerns for the day while keeping the outlet a safe and healthy place for everyone.
The appointment setting system is available nationwide so you can choose to visit the PSA outlet nearest you. You can easily access the site using your laptop, tablet, or mobile phone, you don't even need to download an app. Simply log on to https://appointment.psa.gov.ph/ through any browser. Setting an appointment is free of charge.
Here's how to set an appointment online using the CRS Appointment System:
Log on to https://appointment.psa.gov.ph/ and click on the CRS Appointment System image to view the Privacy Notice. Click the I Agree button to indicate your agreement. Click the Next button on the Important Reminders pop-up window.
Choose the PSA CRS outlet where you would like to set an appointment. If you are requesting for a PSA certificate that underwent Court Decrees and Legal Instruments for the first time, book an appointment at East Avenue.
Provide your name, a working email address, and your mobile number. The PSA will send a copy of your appointment sheet via email. They may also call you on your mobile phone for urgent updates on your appointment. If you agree to the collection and use of your personal data, tick the box below the form and click on Next.
You will receive a 6-digit verification via the email address you provided. Retrieve that code and type it on the OTP Verification field. Click the Verify button to continue.
Choose the type of PSA certificate you would like to request, including your relationship to the owner of the document (in case you are getting someone else's certificate). Provide your complete name as well. There is an option to add another certificate if you need more than one type. Otherwise, click the Next button.
Choose the date and time when you plan to visit your chosen PSA outlet. Click the Next button when done.
Take note of the important details of the appointment. Double-check that your personal details, your email address, and mobile number on the screen are all accurate. Click on the Confirm button when you're ready to finalize your appointment.
You will receive a copy of your Civil Registration Service Appointment Slip with a QR code. This will be sent to your email.
Got to your chosen PSA outlet on the date of your appointment. Be at the outlet's premises on time or a few minutes earlier. Bring your own pen and make sure you are protected by a face mask.
Important reminders when visiting your chosen PSA outlet:
Present the CRS Appointment Slip to the Information Marshal for validation. You may present the digital copy or a print-out.
Get your Application Form and a Queue Ticket Number and present this to the transacting window with your payment, valid IDs, authorization letter/SPA if you are requesting for another person, and other supporting documents.
Get your Official Receipt and check that all information are correct.
Claim your PSA certificate on the scheduled date and time of release. Proceed to the Releasing Area. If you are requesting for another person, you may be required to present the OR, valid IDs, authorization letter/SPA, and other supporting documents to the Releasing Officer.
Check the correctness and completeness of the documents you receive.
Bring valid IDs (document owner/s and authorized representative) that match the names encoded.
Basic fees are:

Copy issuance, Authentication and Annotation of Birth, Marriage, and Death Certificates: Php 155.00 per copy
CENOMAR – Php 210.00 per copy

Authorized representative is not allowed to delegate another person under his/her authority to request for the civil registry documents.
An authorized representative is only allowed to request for 2 unrelated individuals.
Minors are not allowed to book an appointment.
Securing an appointment is free of charge and CRS appointment slip is non-transferrable.
For concerns and inquiries, transact only with authorized PSA personnel.
You also have the option to order your PSA certificates online and have these delivered to you. PSAHelpline.ph is an online channel authorized by the PSA to receive orders for PSA birth, marriage, death certificates and CENOMAR through their website. To order, click on this link.