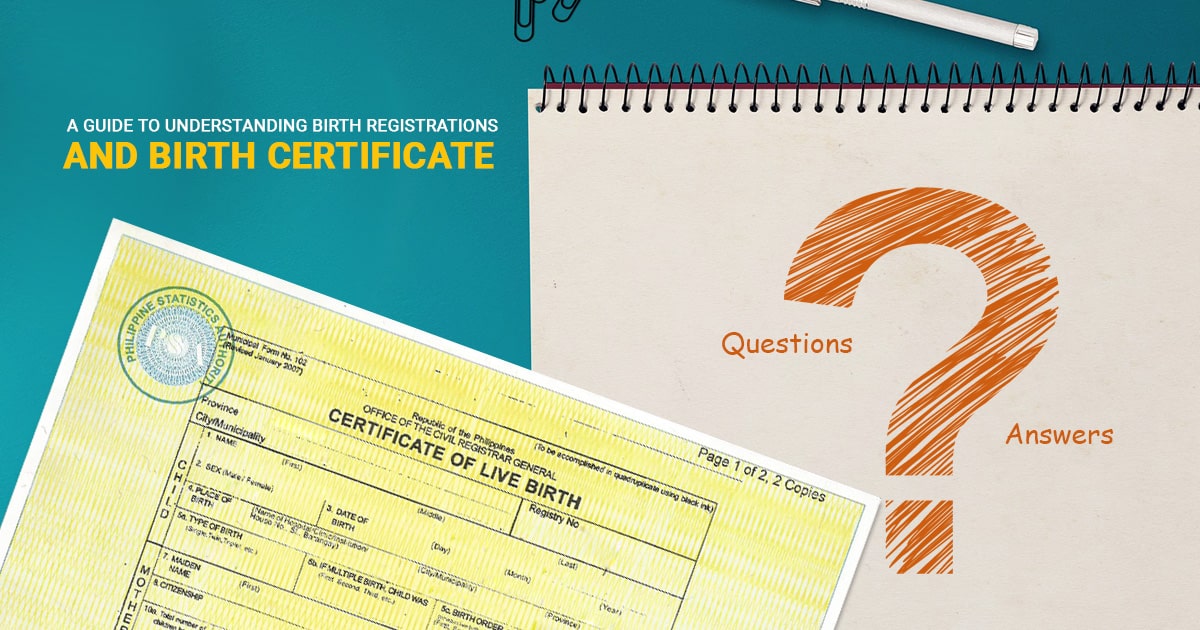 As soon as a child is born, a Certificate of Live Birth (COLB) is created to log all the pertinent details of his birth. This COLB is reviewed and signed by the child's parents and is submitted to the Local Civil Registry Office of the city or municipality where the child was born. A birth record is then created for the child at that LCR and the COLB is endorsed to the Philippine Statistics Authority (PSA) for certification. The child is then issued a PSA Birth Certificate.
Most, if not all, transactions in a person's lifetime will require him to present his PSA birth certificate. From the time he enters preschool, to taking college entrance exams and licensure exams, opening bank accounts, applying for a passport, and a whole lot of other milestones and key events.
In the past, getting a copy of your PSA birth certificate means personally visiting a PSA office (formerly National Statistics Office or NSO), between Monday to Friday, during office hours. Now, you have the option to order online any time and have your PSA certificate delivered to your home or office. When the pandemic hit in 2020, more people found value (and wisdom!) in having essential needs brought to them instead of leaving their homes to fetch these needs themselves. Luckily, requesting for PSA birth certificate, marriage certificate, death certificate, and CENOMAR is included in the growing list of errands that can be done online for safety and security.
How do I register my child's birth?

Birth registration must be done within the 30-day reglementary period. A report made beyond 30 days from the date of birth is considered delayed and such will be marked on the person's birth certificate. Birth registration is done by submitting the duly accomplished copy of the Certificate of Live Birth along with the parents' PSA marriage certificate (if the parents are married), and other documents to the office of the Local Civil Registrar (LCR) in the city or municipality where the child was born.
If you gave birth in a hospital, your child's birth registration will be submitted to the LCR by the hospital.
If you gave birth at home, you must process the birth registration yourself, your spouse, or any member of your immediate family who is of legal age. The attendant at birth, such as the midwife or traditional midwife (hilot) may also process the birth registration.
When can I get a copy of my newborn's PSA birth certificate?

After your child's birth registration and other documents have been submitted to the LCR, you will be informed when you can get your personal copy of the Certificate of Live Birth. In case release is delayed, you may follow-up at the hospital where you gave birth or go directly to the LCR where your child's birth was registered.
It takes two to four months from the time your child's birth details are submitted to the LCR before you can expect to have a copy of his PSA birth certificate. To be safe, start requesting for a copy of your child's PSA birth certificate after four months. You can order your child's PSA birth certificate online at PSAHelpline.ph and have the certificate delivered to you. You also have the option to personally request at a PSA outlet near your area.
If you are in a hurry to get a PSA birth certificate for your child, you can opt for an Advance Endorsement where you personally have your child's Certificate of Live Birth authenticated at the municipal or health office of the place where you gave birth. After the Certificate of Live Birth is authenticated, you bring this to the PSA for electronic endorsement. Endorsing a copy of the Certificate of Live Birth (or Certificate of Marriage, and Certificate of Death) will require an endorsement or transmittal letter signed by the LCR office. The transmittal letter shall be given to you by the LCR so make sure to ask for this, in case you don't find it in your set of documents.
Your child's PSA birth certificate shall be available after three weeks (instead of two to four months).
How do I get a Certified True Copy of my Certificate of Live Birth?
You can get a Certified True Copy of Certificate of Live Birth (COLB) at the Local Civil Registrar's office of the city of municipality where you were born.
Proceed to the LCR office and provide your:
Complete and registered name
Birth date and birthplace
Complete names of your parents
The Registration Office shall check the availability of your COLB based on the details you submitted. If they have your COLB on file, you will be asked to proceed to the Municipal Treasurer to pay for the copy. Secure an Official Receipt after your payment. Rates may vary.
Present the Official Receipt to the Municipal Civil Registrar and receive the certified copy of your birth certificate.
Can I request for a copy of my PSA birth certificate online?

Yes. Ordering your PSA birth certificate online is safe and convenient, especially now that our country is still reeling from the effects of COVID-19. You can request for a copy of your PSA birth certificate at PSAHelpline.ph
When you order online, your PSA birth certificate (and other types of civil registry documents such as PSA marriage certificate, PSA death certificate, and PSA CENOMAR) is delivered to your doorstep wherever you are in the Philippines (subject, of course, to the courier's ability to locate and reach an address as some addresses are out of boundaries).
How much will it cost to order for my PSA birth certificate online?
At PSAHelpline.ph, you can get a copy of your PSA birth certificate, PSA marriage certificate, or a copy of a PSA death certificate for P365.00; a copy of a PSA CENOMAR is at P420.00. These already cover the processing and delivery fees to any location in the Philippines.
Various payment options are made available for your convenience. You can pay online with your credit card, or through your GCash or PayMaya apps. You may also pay over the counter at PSAHelpline's partner banks and payment center affiliates. If you are ordering from Metro Manila, you will get your PSA birth certificate in three to four working days; provincial deliveries take three to eight working days to complete.
How do I get my PSA birth certificate through walk-in application?
Requesting for copy issuance of civil registry documents at PSA CRS outlets requires an online appointment. You may create an appointment at https://appointment.psa.gov.ph/. This is free of charge and is open to everyone.
Can someone else request a copy of my PSA birth certificate?
If you are ordering for your PSA birth certificate online, you can only request for yourself, your parent, or your child.
If you are requesting for a copy issuance of your birth certificate at a PSA CRS outlet, you can order for yourself and your family members, and you can also get copies of the birth certificates of people other than your family and relatives. However, you need to present an authorization letter signed by the owner of the PSA birth certificate and his or her original valid ID. As an authorized representative, you are only allowed to request for up to two unrelated individuals.
Does a PSA birth certificate expire?

The quick and easy answer to this question is no. PSA birth certificates do not expire; however, you will find the need to request for new copies every now and then because of the following reasons:
PSA changes the Security Paper (SECPA) where the PSA birth certificate is printed. The SECPA is unique and has special features that make your birth certificate authentic. It cannot be duplicated or copied to reproduce a fake birth certificate.
You need a new copy if there were corrections or amendments applied to the details in your PSA birth certificate.
Some private and government agencies require the original copy of your PSA birth certificate for certain transactions.
Government agencies are advised by the PSA every time the SECPA is updated. When transacting with them, you may be required to submit or present a PSA birth certificate that is printed on the updated SECPA.
Old and dilapidated PSA birth certificates may not be accepted by private and government agencies.
Is my PSA birth certificate a valid ID?
It is required when you apply for valid government-issued IDs such as your Philippine passport, your PhilSys ID (National ID), your Postal ID, Senior Citizen's ID, and the like. It is the most credible basis of your identity, your age, and your lineage. Simply put, you cannot get a valid government-issued ID without it; in that sense, it could even be more powerful than any of your valid IDs put together.
Reference: Philippine Statistics Authority