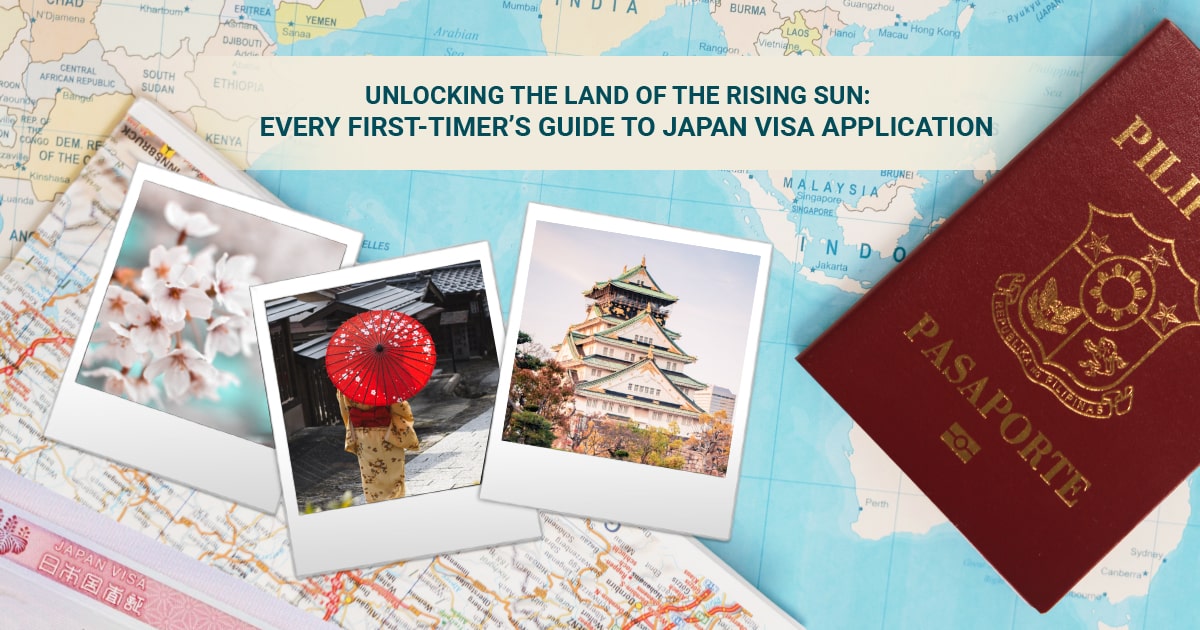 Japan has always been a popular tourist destination for Filipinos. From the vibrant city of Tokyo to the serene temples in Kyoto, there's no shortage of places to visit in this country otherwise known as the Land of the Rising Sun. If you are one of the many Filipinos who simply can no longer just sit and watch vlogs about the different exciting places to visit, eat at, and experience in Japan, then this is your sign to begin working on your very own trip.
Visa and Other Requirements
There are different types of tourist visas that Filipinos can apply for, depending on the duration and purpose of your stay in Japan. The most common types of tourist visas are:
Single-entry visa – allows the holder to enter Japan once and stay for a maximum of 90 days.
Multiple-entry visa – allows the holder to enter Japan multiple times within a specified period, usually up to three years, with each stay limited to 15 or 30 days.
If you are going to Japan to tour and will not stay for more than 90 days, you must apply for a tourist visa. The above-mentioned visa types must be applied for through any of the accredited agencies of the Embassy of Japan in the Philippines. If you are visiting Japan for purposes other than leisure or visiting friends and family who reside there, you need to apply directly at the Embassy of Japan in the Philippines or the Consular Offices in Cebu or Davao.
Documents Required for Japanese Tourist Visa Application for Filipinos
Philippine passport – your passport must have at least six months of validity and must have at least two blank pages.
Visa application form – this can be downloaded from the website of the Embassy or Consulate General of Japan in the Philippines.
PSA birth certificate issued within one year.

Below are ADDITIONAL REQUIREMENTS if:

The birth certificate is UNREADABLE , submit a copy of the birth certificate issued by the Local Civil Registrar
If the birth certificate is tagged as LATE REGISTRATION , submit a Baptismal Certificate and School Record (Form 137)
If the birth certificate request returned a NEGATIVE CERTIFICATE result, submit a copy of the birth certificate issued by the LCR, along with the Negative Certificate from the PSA.

PSA marriage certificate issued within one year (for married applicants only)

If the marriage certificate is UNREADABLE, submit a Marriage Certificate issued by the LCR.
If the request for a copy of the PSA marriage certificate returned a NEGATIVE CERTIFICATE result, submit a copy of the marriage certificate issued by the LCR along with the Negative Certificate issued by the PSA.

Itinerary of your visit to Japan:

If you are paying for your trip:

Bank Certificate
Photocopy of your Income Tax Return (BIRH Form 2316)

If someone from the Philippines will be paying for your trip:

Guarantee Letter from your sponsor
Proof of relationship between the visa applicant and guarantor (such as PSA birth certificates)
Bank Certificate of sponsor
Photocopy of Income Tax Return (BIR Form 2316)
What to Expect After Your Visa Application
Your visa application will be submitted by the agency to the Japanese Embassy. You should receive an 8-digit application number as proof that your application was submitted and received successfully.
Allow at least five working days for your application to be processed and your passport released back to the agency. If you do not receive your passport after a week, you may follow up at the Japanese Embassy using your 8-digit acceptance number. Please do not forget to bring the acceptance number when you follow up as it is the only way they can locate your application. Name and date of birth of the applicant cannot be used as basis to search for your application.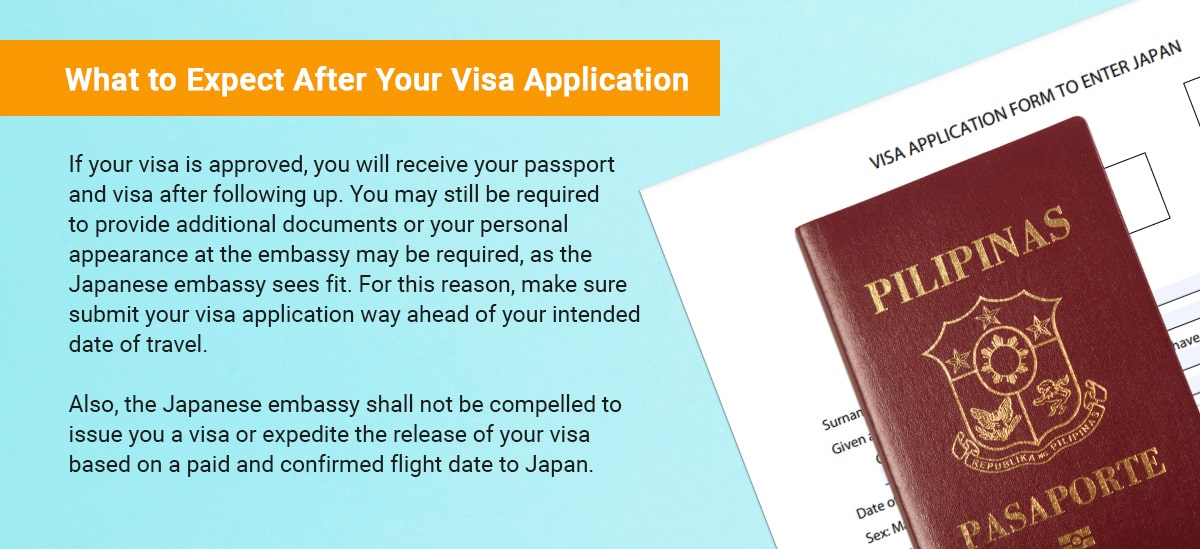 If your visa is approved, you will receive your passport and visa after following up. You may still be required to provide additional documents or your personal appearance at the embassy may be required, as the Japanese embassy sees fit. For this reason, make sure submit your visa application way ahead of your intended date of travel. Also, the Japanese embassy shall not be compelled to issue you a visa or expedite the release of your visa based on a paid and confirmed flight date to Japan.
Other Things You Need to Know
The submission of complete documents does not guarantee that you will be issued a visa.
If the Embassy finds that you submitted fake or tampered documents, your application will be denied.
All submitted documents will not be returned to the applicant, whether his or her application is approved or not.
Should the Japanese Embassy require you to submit additional documents for your application, you have three months to complete the additional requirements. If you are unable to complete your requirements within that timeframe, your application will be terminated.
Should your application be denied, the reason for denial shall not be disclosed. You may re-apply after six months.
Are you ready to begin your visa application? 😊 Keep a copy of this blog as your quick reference guide when working on your requirements.
Have fun!