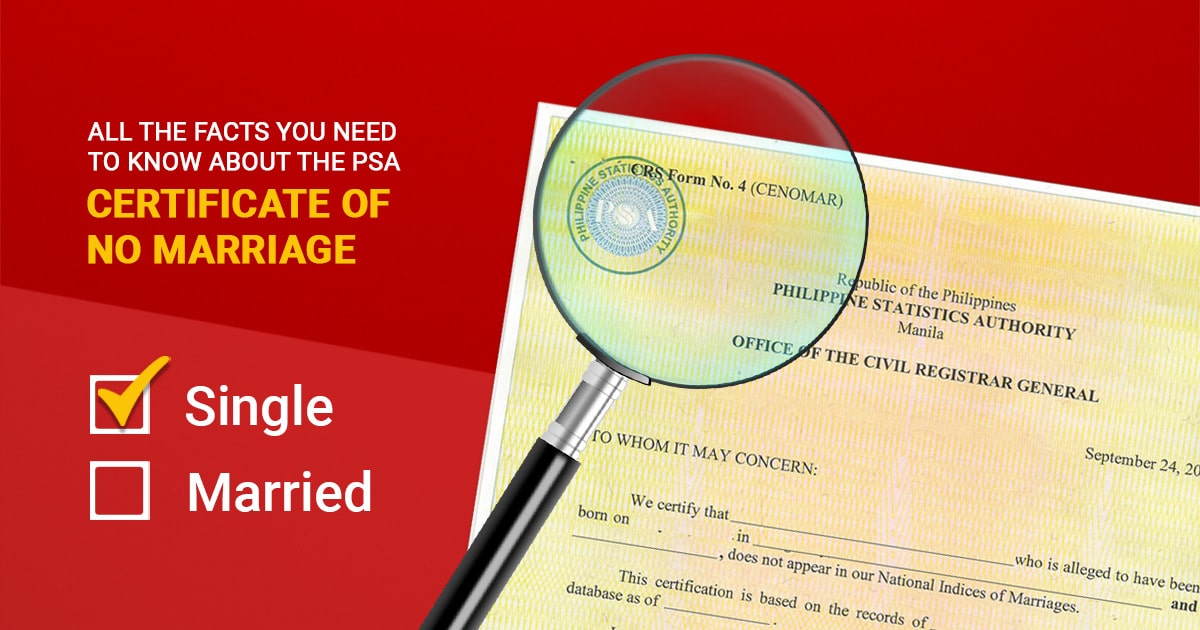 Of the four types of civil registry documents one could get from the Philippine Statistics Authority (PSA), the PSA CENOMAR(Certificate of No Marriage) is the only one that is not manually filled-out and submitted to the Local Civil Registry for recording. A CENOMAR is generated for every person upon request, and it serves as certification that that person is not married. It is often required when a person applies for a marriage license – one of the major documentary requirements you need to have to get married.
What is a Certificate of No Marriage?
The PSA provides a rather straightforward definition of the CENOMAR, it is simply what its name implies. A CENOMAR attests to the fact that the person whose name appears on the document is single and is free to marry.
If a person is widowed, annulled, or divorced, is he or she considered single?

A person who was married before and was widowed or divorced is considered an unmarried person. However, a person whose marriage was annulled or void ab initio (marriage was not valid or recognized from the start) is still considered single (provided he or she was not married previously).
In relation to this, a person who is or was married and requests for a copy of his or her PSA CENOMAR, will be provided an Advisory on Marriage. The Advisory on Marriage is likewise issued by the PSA; it indicates the instance/s when the owner of the certificate was married, to whom, and where.
Is a CENOMAR a requirement for marriage?
When you apply for a marriage license, you will be required to submit a copy of your PSA birth certificateand your PSA CENOMAR. Primarily, the CENOMAR certifies that you are single and free to marry. In case you were previously married, and the marriage was dissolved due to divorce or annulment, your CENOMAR shall likewise bear the details of the dissolution of your previous marriage.
Yes, the PSA CENOMAR is one of the required documents when one applies for a marriage license.
Does the CENOMAR expire? How long will it be valid for use?

The PSA CENOMAR is valid for a period of six months, beginning on the date reflected on the upper right corner of the certificate. In the same manner, a marriage license is valid for 120 days from the date it was issued and the couple that applied for it must get married within that timeline; otherwise, they shall be required to secure a new one again.
How do I request for a PSA CENOMAR online?

You may order a copy of your PSA CENOMAR online at PSAHelpline.ph, an accredited partner of the PSA for the online ordering and nationwide delivery of PSA certificates such as PSA birth certificate, PSA marriage certificate, and PSA death certificate.
On the website's homepage, just click on the Order Now button and follow the ordering process. You will be asked to provide your personal details to process your order. This includes our name, birthdate, your parents' names, your birthplace, and the purpose of your request. Since the document will be delivered to you, you will need to present a valid identification to the courier to be sure that the document is not handed to anyone else. For this reason, you will also be asked to indicate the type of ID you will be presenting upon delivery, for verification.
After you have completed the ordering process, you will be asked to choose your preferred payment method. PSAHelpline offers a wide array of payment options, so whether you prefer paying online with your credit card, PayMaya, or GCash, or over the counter at payment hubs like ECPay, Bayad, and Palawan, or thru banks and Dragonpay, you are sure to find one payment channel that suits your preference.
PSAHelpline delivers nationwide; if you are from Metro Manila, you will receive your order in three to four working days. Provincial orders take three to eight working days to arrive. You can track your order's status on the website using your order's Reference Number; this way, you have an idea when the parcel is due to arrive and you can make yourself available to personally receive the documents.
How much is a PSA CENOMAR?
Ordering your PSA CENOMAR online at PSAHelpline.ph costs P420.00 per copy. This already includes the processing and delivery fees.
Can I authorize someone else to get my PSA CENOMAR?

If you order your PSA CENOMAR online, you may only do so for yourself, your children, and your parents. If you would like to order for someone else, or have someone else order your PSA CENOMAR for you, you may do so at a PSA CRS outlet.
Going to a PSA CRS outlet to request for copies of PSA certificates require a confirmed online appointment. You may get an appointment at PSA Online Appointment Systems.
At a PSA outlet, you may request copies of PSA CENOMAR (or any other type of civil registry document) for yourself, your fiancé, and other members of your family provided you have a signed authorization letter from the owner of the document. In the same manner, you may authorize anyone else to request for your PSA CENOMAR on your behalf, if you provide them with an authorization letter and your original valid ID.
How many copies of a PSA CENOMAR should I get?
The number of copies of a PSA certificate required by establishments and government agencies for a particular transaction varies. Some establishments only require a photocopy of the certificate while others prefer to have the original document printed on SECPA (Security Paper). Marriage license applications, for example, only require one copy of the PSA CENOMAR.
If you wish to keep a copy for your files, it may best to order at least two copies. When ordering more than one copy online, you will only be charged once for the delivery and processing fees, so it is much more economical to order more than number of copies you need to submit for your transaction.
Securing your PSA certificates.
Just like all other types of civil registry documents, your PSA CENOMAR contains some of the most personal details of your life and your identity. Always make sure your copies are safely kept in your home or office. When you need to request a copy from the PSA, try to do it yourself rather than having someone else run the errand for you.
Reference: Philippine Statistics Authority